Project Name
Worth, James
Categories
1st Battalion,ABU Troops
Vietnam 1st Battalion
James Worth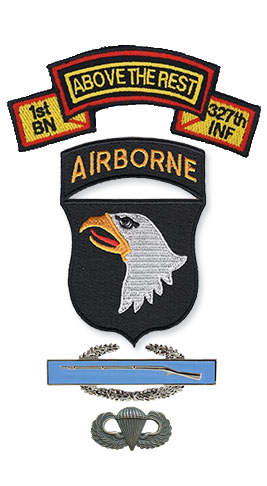 I arrived Vietnam 30 APR 1967, age 18 and 4 months, went through P-training, then I was assigned to 2d platoon, A/1st/327 while they were still in Duc Pho. Two of my old platoon mates are Dan Clint and Dan Bersch. I was the RTO for that platoon for most of the time I was there. Stayed with them through Quang Ngai, Chu Lai and Tam Ky, leaving when I volunteered to go LRRP.
I was assigned to E Co 20th Inf LRRPS (later renamed to C Co/75th Ranger Regiment) we went through Recondo School (Nha Trang) as a platoon. I was the asst. team leader/point man on team 4-7 for over 20 patrols, was a team leader on three. We mostly worked along the Cambodian border of II Corps from west of Pleiku all the way south to west of Ban Me Thuot. Some of this area is now Ban Don Park.
"I wanna be an Airborne Ranger, I wanna Live a life of danger!" Been there, done that, got the t-shirt–all LRRPS were grandfathered into the Rangers, I'm a member of that Association also.
We also worked all over II Corps: Qui Nhon, Anh Khe, Bong Son.
I DEROSed APR 22, 1968, ETSed Jan 22, 1969
Paratroopers: I think the greatest honor in my life has been being one of you. God bless you all, you are some real men!
After the war I traveled a lot, all over the world, working as a welder and professional oilfield diver. In 1981 I got my general contractors license, Ive been building and remodeling homes ever since.
I currently live in San Pablo CA, in the SF East Bay. I am about 95% retired.
Below: James Worth and J Besecke, Team 4-7, E Co 20th Inf (LRP) waiting to ride on the Maguire Rig, Plei.