Project Name
Smith, Horace Paul
Categories
1st Battalion,Cobra Troops
Vietnam 1st Battalion
Horace Paul Smith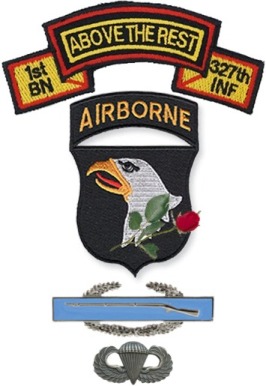 RE-38/DD 214.
PRCHTBAD 18MAR64 FT BNG, GA (FP DPC FM17 FRM DATE 8 SEP 63)
CIB 26 SEPT 65
PH (2) ISSUED 11 MAR 66 FOR WOUNDS RECEIVED 9 MAR 66
VSM AR 672-5-1
NDSM AR 672-5-1
Basic Training Ft. Dix, NJ 8 Oct 63
AIT 8 Jan 64
Basic Abn Tng 28 Feb 64
Co C 1st BN 327th Inf Ft Campbell, Ky 27 Mar 64
Co C 1st BN 327th Inf USARPAC 8 Jul 65
Submitted by Paul M. Smith (Son) 1992
Horace "Paul" or "Smitty" Smith was born in London, England during WWII. His Father, Arthur Morris Smith, was in the US Army Air Corp. and his Mum was a nurse, Florence Charter Smith. He joined the United States Army from England to come to America as his Dad was living in Greenville, South Carolina.
After service to his country, Paul came home to Greenville, South Carolina where he wed Linda Ann Stewart and they had 4 children – 3 boys, Paul, Mark, & Michael, and 1 girl, Angela Nicole. He was a GREAT Father – from coaching all of our sports growing up to being a very patient man and caring at all times – even when he should have been exhausted from working all day – he was there for us. He never spoke of Vietnam, and if we asked as he was my greatest Hero, he would say, "I'll tell you when you're old enough" – even when I joined the Army myself, he never told us stories of War, only of GREAT Friends and terrific men that made the ultimate sacrifice so that we could enjoy FREEDOM. He joined the Army Reserves where he became a Drill Sergeant, made SSG early based on his exceptional Drill Sergeant performance. Although he did not retire in the Reserves, he enjoyed his time training recruits at Ft. Jackson immensely.
My Dad, my superman, my hero, passed away on March 23rd, 1992 and we miss him every single day. It's a shame he never knew his 9 grandchildren (Taylor, Anna, Stewart/Brandon, Ashlee, Daniel/Jacob, Kaitlin/Casey) that are here today because he loved babies and was very patient with any child.
As he would say, "Have a Cold one whenever you think about the good times"…
Paul M. Smith
Written to Paul M. Smith, Horace P. Smith's son;
My name is Daniel F. Little, Smitty was one of my best friends in Vietnam. He came over on the boat and was a knowledgeable Veteran by the time I joined his squad about a month later.
I have nothing but fond memories of your father, he was an exceptional soldier and was very proud to be serving in the United States Army as a paratrooper with the 101st Airborne "Screaming Eagles." I can still remember his English accent like it was yesterday.
I am sorry to hear of his passing, did he ever attend any of the reunions of "Cobra Company"? They have been holding them for approximately the last twenty years. I went to one about fifteen years ago and then another just a few years ago. I think I am the only one who has attended from our weapons squad, and then only twice, but there are quite a few others that I know do attend that would know and remember your Dad.
If I can help you more, in any way, I would be most happy to do so.
Your Dad's friend,
Dan Little