Project Name
Smith, Dewey
Categories
1st Battalion,Brave Rifle Troops
Vietnam 1st Battalion
Dewey Smith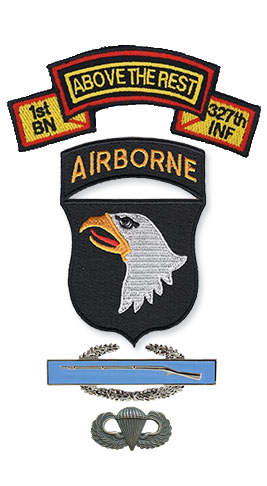 Born 10/4/46 in Kentucky
Attended High School & College In Ohio
Enlisted In The United States Army January 1966
(Told the Recruiter that I wanted to be a paratrooper, and if I couldn't get that then I wanted in the Army. You better believe they saw me coming.)
Basic at Ft. Knox, KY. AIT at Ft. Gordon, GA Jump School at Ft. Benning, GA.
Assigned to 101st Abn., RVN July 1966
Assigned to a security company at Long Binh, RVN July 1967
Assigned to PACEX in Saigon, RVN December 1967
Discharged Oakland, CA July 1969
Wife: Dianne
Children: Tonya, Derek, Shelly, Eric, Mike, Cassie.
(Found out what was causing this, and bought a TV with a remote.)
Grandchildren: Jasmin, Heather, Joshua, Chelsea, Jesse, Justus, Alex, Tieghen, Tristan,
Brianna, Devon, Tara, Cohlin, Eric Jr., Adalyn, Corbin, Emerson.
Great Grandchildren: Jonathan, Greg, Anna, Xayvier, Adalyn, Silas, Clayton, Willow, Journey,
David, Zion, Madilyn, Luna, Asher, Levi.
I am retired and enjoying the hell out of it, and Dianne is retired now so the boss is around to make sure I behave myself.