Project Name
Russell, John
Categories
2nd Battalion,A Company
Vietnam 2nd battalion
John Russell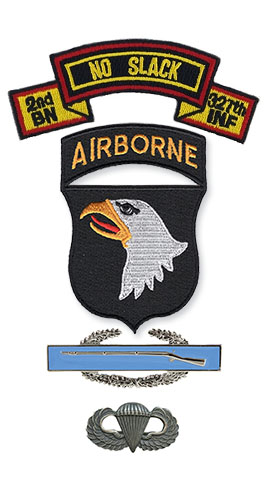 It is pure joy to hear from someone that was there and has as many dreams as I do.
First of all, I did go to Jump School over in Germany when I was with the 509th. I've got novice wings and had 22 jumps before I went to Nam.
Got over in Nam in April 1967. Don't really remember what platoon. All I have recollection of is I thought the platoon leaders name was Norm. And to tell you the truth, I really don't recall a whole lot of names. But one name has always stuck with me. His name was Pete Dube. He was killed Aug 2nd. He was walking point and I was his slack man. And his uncle was the first shirt 1sgt Dube. I tried to e-mail him, but have had no response.
Got my CIB, no Purple Hearts, no medals. Just a scared little 18 year old kid who just volunteered for the worst nightmare of his life. And at almost 59 still having the nightmares.
Left the 327th in Oct 67, and moved on to better duties. So if you can help me with some answers to so many forgotten things that would be great.