Project Name
Montgomery, Lester
Categories
1st Battalion,Cobra Troops
Vietnam 1st Battalion
Lester Montgomery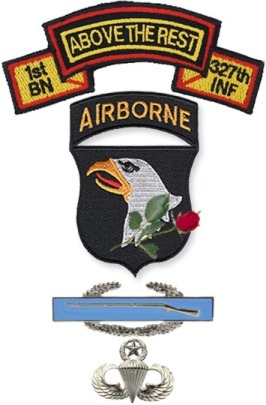 Les passed away 10-23-21. Godspeed Airborne Brother!!
Lester E. Montgomery Enlisted 1958-1978
Commo Chief C-Co. 1/327th
My years in the army was the most rewarding and honorable thing I ever did in my life, other than being the husband of a beautiful woman named Edith who I have been married to for forty three years. Also being the father to four wonderful daughters, one of them being deceased. Eight grandchildren, two great grandchildren.
I, like anyone that made a career out of the military had a wide range of assignments and jobs. They ranged from rifleman to infantry platoon sergeant, drill sergeant, company and battalion commo chief, airborne school instructor at Ft. Campbell, KY and at Ft. Benning Ga. Both basic and advanced airborne training. Also recruiting duty jobs that started off in a one man station and ended up station commander of multi man and and multiple stations in Nebraska and Iowa.
Some of the schools I attended include Air Mobility, Aerial Delivery, Halo, Jumpmaster, ITC at the a Army Infantry School, ARCC and Recondo plus others.
My favorite assignment was with C 1/327 – 1962-1966. My biggest regret:I never got to serve my second tour with C 1/327. My heart is and will always remains with C 1/327.
Awards include the usual Bronze Star, Air Medal, Army Commendation, and whatever else you pick up along the way.