Categories
1st Battalion,Cobra Troops
Vietnam 1st Battalion
Ken Mooi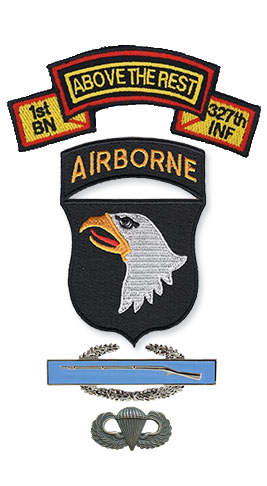 I Graduated Jump School at ft. Benning in Oct. '65 then served 10 months in the Dominican Republic with the 82nd Abn(2/504). I was awarded my CIB in the Dominican Republic.
When the 82nd was pulled out of the Dominican Republic my orders came for Vietnam. I arrived in Vietnam in mid – September '66 at the 90th Replacement Detachment. I joined up with the 2nd platoon in the field toward the end of an operation in Tuy Hoa. Lt. Graham was the platoon leader. Capt. Darling was Co. commander. After Darling I served under Cpt. Northquest. I had one more Co. commander after Cpt. Northquest, but can not remember his name.
After platoon leader Graham was Lt. Hill and Lt. Stevens. Lt. Stevens was wounded on a hill near Chu Lai 8/18/67. Second platoon Sgt. was Mitchell. He was KIA on 8/18, so was Buckridge and Orosco as were many others. I just read an article about Orosco, he was our medic in the 2nd platoon. The day before we went on the operation near Chu Lai he was showing some of us a picture of his new born son that his wife had sent. He said, "He's gonna go Airborne just like his old man". It sounded funny coming from an 18 year old to refer to himself as someone's "old Man". 24 hours later he was dead. I often wonder if his son went Airborne?
I went back to Vietnam with the 3rd Brigade 82nd Abn during the '68 TET Offensive only for a short time and then ETSed.
I'm married and have two daughters and two grandchildren. I have been a truck driver since getting out of the service in '68.