Project Name
Mc Donald, John (Russ) "Top"
Categories
1st Battalion,Cobra Troops
Vietnam 1st Battalion
John (Russ) ``Top`` Mc Donald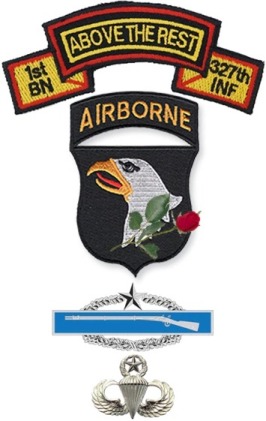 Russ "Top" McDonald CSM USA Retired,
succumb to his long battle with cancer
September 3, 2009
Went into service in 1949
Had 2 tours in Korea in 1950-51 & 1953-54
In 1956 I was Advisor/Instructor to the German 1st Mountain Division
1st tour VN in '63-'64 as adviser to VN 32 BDQ (Vietnamese Rangers). The 32nd was the first Ranger BN that went through school at Trung Lap as a BN. We operated mostly out of Ben Cat but pulled operations all over III Corps
In '65-'66 as 1SGT of C Company of 1/327 (1/327th was the best unit that I served in combat with)
My last tour was with the 3/506 in '67-'68
From '68-'70 I was in Waco as SGM with the 71st ABN BDE Texas National Guard as an advisor.
In '70 I went to Texas A & M as SGM of the ROTC detachment until 1973. While at TAMU I sent 175 Cadets through Jump School at Ft Benning, 13 through Ranger School, 16 through Jump Master School. I started the Rudders Rangers while at TAMU named after General Earl Rudder who led the 2nd Ranger BN during the Normandy Invasion, he also was a former President of TAMU
In 1973 I was stationed at Ft Richardson, Alaska as CSM still on jump status, this is where I retired in 1975
Black Tigers
Russ "Top" McDonald
I arrived in Vietnam in February 1963 after going through the MATA course at Bragg. I was assigned to a Ranger Training Team in Ben Tre. The concept at that time was to form a Headquarters Company and pull four Ranger Companies that belonged to the Province Chiefs in, to form the 32nd BDQ. We formed and trained the HQ Co. but could not get the Ranger Companies released.
On the Ranger Training Team with me was Captain Billy D. Thames, 1st Lieutenant Dean H. Darling and two ex-special forces sergeants whose names I can't remember. Capt. Thames and I were slightly wounded by a grenade in Ben Tre and medevaced to Saigon in March 1963.
When we were released from the hospital we were given our choice of assignments. The Ranger Training Team concept was scrapped and and the HQ Co. we had organized and four Ranger Companies were ordered to Trung Lap Training Center. We asked for and got the 32nd BDQ. It is my understanding that the 32nd BDQ was the first Ranger Battalion that went through Trung Lap and trained and operated as Rangers and not Province Chiefs personal bodyguards. The training was not the best, but I learned a lot that helped me save American lives in my other two tours with the 101st. We took quite a few casualties, mostly from mines and booby traps. After Trung Lap we were sent to Ben Cat in May 1963. There was an ARVN Infantry Regiment stationed there that never left town. We were the only unit operating in the area. We operated 5-8Ks off of Hwy 13 in areas that had never seen an ARVN soldier.
At first Captain Thames and I were the only advisors, but he managed to find SFC Willie Foster in Saigon who was an ex special forces medic and had a previous tour in Laos. We made Willie our Battalion Surgeon. Of course we were not authorized a medic – only a Captain and two infantry SFCs. Willie was a great medic and with his special forces connections we were able to get medical supplies from a SF warehouse in Saigon that would have been impossible through Viet channels.
We were organized with a HQ Co. with about 75 personnel and four Ranger Companies with approximately 100 men. The support section of the HQ Co. had the only two machine guns in the Battalions, two A-4s. The basic weapon was the carbine M-1. We did have a lot of Thompsons, some BARs and M-1s with rifle grenade launchers. We also had one or two hand held 60mm mortars in each company and a few M-79s.
The only fire support we had were two tubes in Ben Cat and occasionally a platoon of Armed Hueys. Most of the time we were on our own.
We usually operated as a battalion in areas that the Viet Cong outnumbered us 4-1, but still managed to knock over two to three VC installations a week. In July 1963 we were joined by the 33rd BDQ with Captain Andre Lucas and SPC Eugene Hudson. Capt. Lucas was later KIA in July '70 while commanding the 2/506 and awarded the Medal of Honor (P). The last I saw of Hudson was at an award ceremony at Fort Campbell where he was awarded the Silver Star and the Bronze Star W/V. I was told that his Silver Star was the fourth award in Vietnam and the first that was not posthumous. He should have gotten the Medal of Honor for what he did, but in those days you were lucky to get an "atta-boy'.
After I left Vietnam in 1964, I went back to Fort Campbell, then back to Vietnam as the First Sergeant of C/1/327th in 1965. I also went back in 1967 with the 3/506. In 1968 I was wounded and medevacuated back to Fort Campbell. When I got out of the hospital, I was sent to Waco, Texas to form the 71st Airborne Brigade in the Texas National Guard. After two years in Waco I was promoted to Sergeant Major and sent to Texas A&M University in College Station Texas. I was there for three years and managed to get 13 cadets through Ranger School and about 150 through Jump School. I also got 16 cadets through Jump Master School. I was promoted to Command Sergeant Major in July 1973 and sent to Alaska as CSM with the 4/23 Infantry in the 172 Artic Light Infantry. I returned in 1975 and moved back to Texas. After five years in Texas and three tours in Vietnam I couldn't adjust to jumping out of a plane in 30-40 below weather.
Medals received were:
Vietnamese Service Medal w/6 Campaign Stars
Bronze Star for Valor plus 2 Oak Leaf Clusters
Meritorious Service Medal
Air Medal for Valor with 1 Oak Leaf
Legion of Merit
Purple Heart with 2 Oak Leafs
Korean Service Medal with 6 Campaign Stars
Master Parachutist Wings
VN Parachutist Wings
VN Ranger Badge
CIB with Star (2nd Award)
Presidential Unit Citation
Valorious Unit Citation
Meritorious Unit Citation
Korean Presidential Citation (Several)
VN Gallantry Cross with Palms (Several)
Civic Action Honor Medal from VN Government;Civic Actions Honor Medal
Army Commendation Medal with Oak Leaf Cluster
Distinguished Member of the 327th Infantry Regiment.