Categories
1st Battalion,Cobra Troops
Vietnam 1st Battalion
Pat Lovett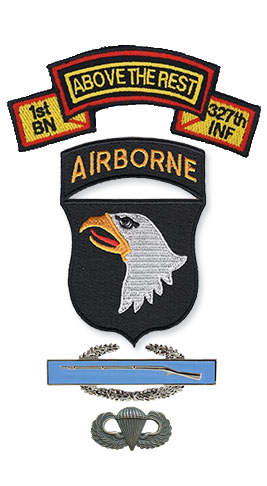 I was born in the Bronx, NY on 1/12/46 and at 19, doing nothing positive with my life, I pushed up my draft and entered the Army on 4/6/65.
Prior to that, while working at a bank, some lunatic told me how much fun being Airborne was. So I volunteered Airborne at basic and the Army did what I asked and sent me to jump school.
I then volunteered for Vietnam, so I could drink, chase women and shoot-preferably in that order. The Army again did what I asked and sent me direct to Vietnam, after jump school which gave me the unique opportunity of being a "cherry" and in a combat zone.
I did make my cherry jump- a pay jump- in Phan Rang out of a Huey. I tried to keep it quiet so no one would harass me. Muntz, an old NCO on the jump, later told me he knew but took pity on me. I thought things aren't dangerous enough, I have to risk my neck for the $55.00, which I probably won't get to spend bacause I'll get killed anyway. Shortly afterward, Congress eliminated the jump requirement for combat zones.
I made it home, drank and caroused for 14 years until I met Caity, my soulmate. We have 4 children, Mike 18, Andrew 15, Thomas 14 and Christine 11. We moved to MD in 1988 and love it here. I am an area sales manager for ITW and work out of my house. It has been a very strange experience hearing from guys that you left behind 34 years ago.