Categories
2nd Battalion,H&HC
Vietnam 2nd battalion
Dan French
H & H Company 1965 – 1966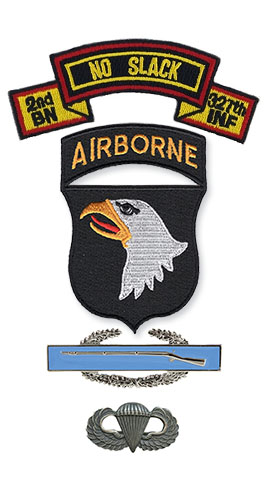 I was one of the boat people, one of the original Hawks. I was assigned to Sgt. Bejonstal (sp??), we called him Sgt BJ, who took Sgt BJ's smart mouthed helper (Santos) out back and kicked his Kung Fu Philippine Champion butt!! BIG TIME!!! I was also the one Lt. Yarbough accused of falling asleep on radio watch and then Capt. Plummer found out it was actually Lt. Yarbough who fell asleep and relieved Yarbrough over lying about the incident.
Do you remember when the batallion commander Col. Gardner was blown up in that recon Jeep spring of
1966? That was my Jeep. Sp4 J.C. Campbell was the driver and Sgt Sammy Ipock was the car commander. Col Gardner told me to ride in his jeep so he could stand behind the M-60. He told me to ride in his Jeep, bad for him lucky for me. They ran over a road mine with their left rear tire.
I have the basic military jump wings, but I have almost 3000 civilian jumps. I was the 1972
world champion. Was on the U.S. Ten Man Team named The Flying Farkel Family. The World Championships were held in Masterton, New Zealand that year.