Project Name
Christensen, Allen R.
Categories
2nd Battalion,C Company,H&HC
Vietnam 2nd battalion
Allen R. Christensen
H & H, C Companies 1965 – 1966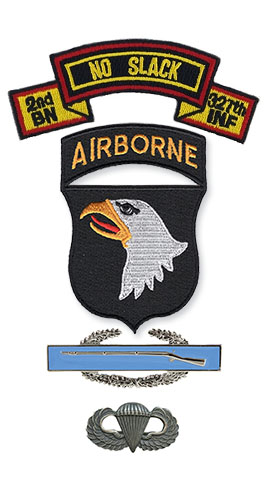 Allen Christensen grew up as an Army brat living at various military posts in the U.S. and in post-war Austria. His father, Arthur, was a Bataan Death March survivor and career Infantry officer. Allen joined the Army after high school, entered West Point a year later, graduated in 1963 and was commissioned an infantry officer. After infantry and airborne training, he joined the 101st Airborne Division at Fort Campbell, KY. He deployed to Vietnam as a member of the 1st Brigade's 2nd Battalion, 327th Infantry in the initial rapid build up of U.S. forces in 1965. For the next year, he participated in combat operations against Viet Cong and North Vietnamese Army forces as battalion intelligence officer, heavy mortar platoon leader and rifle company commander.
He then was an ROTC instructor at the University of Delaware until the 1968 Tet offensive. He returned to Vietnam and joined the 1st Cavalry Division in July 1968. For the next 16 months, he commanded a rifle company (A Co 2-7th Cav), ran the 3rd Brigade tactical operations center, and served as battalion operations officer (S-3) of 1st Battalion, 12th Cavalry.
Leaving Vietnam in October 1969, he served in various Army and Joint field and staff assignments in the U.S. and Germany until retiring in 1988. On leaving the Army, he joined the Washington office of a major aerospace firm. He and his wife Josie have three grown children and five grandchildren. His son is a third generation infantry officer who served 14 months as a platoon leader in Iraq with the 2nd Battalion, 504th Infantry, 82nd Airborne Division in 2007-2008.