2/327th Infantry "No Slack" Vietnam
Platoon pictures 1967
3rd Platoon, Tuy Hoa, '67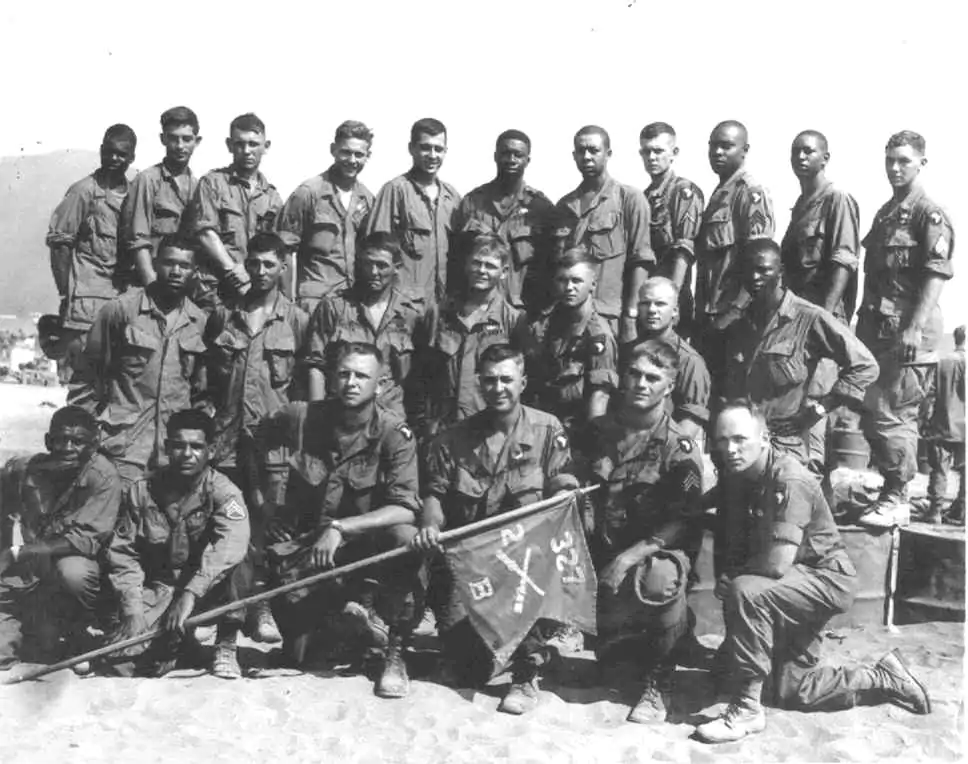 Top Row – L/R: Grover Washington, Morgan Ensminger, Randy Brook, John Peperi, James Haub, Junior Walker, Thomas Cook, Frank Norris, Lumas Ward, Leslie Hendricks, David Mongold.
Middle Row – L/R: Keith Smith, Henry Mise, Jesse Ramey, Russell McBain, Tim Voegtle, Robert Russell, Sgt. Jones.
Bottom Row – L/R: SSG Hudson, SSG Osiris Melendez, Lt. Larry Boecklen, SFC Jack Short, SGT Kenneth Spurrier, SSG Frederick Tregaskes.
Missing are Milo Cadotte (on R & R) Wallis Currie and Paul Nance who just left for home.
Thanksgiving, Phan Rang, 1967
Back Row: (L to R) 'Lightin' Beamon, Mize, (Top Cat) Sgt. Ray Williams, Pat Sassy, 'Flip' Iden(?), Sgt. Reno, 'Breed' Lackey, Sgt. Ashley, Sgt. Delo, Wiley, Eric Johnson (KIA).
Middle Row: (L to R) 'Buckshot' Haddix, 'Cajun' Foret, 'Little John' Summerfield, Sgt. Ramsey, 'Cheese' Bergen, Guaran, Rudolf, 'Doc', Benny, Sgt. Quintana, Burns.
Kneeling: (L to R) 'Ace Hunter' 1st Lt. Lopez, ?, McKenneth, 'Tiny' SSG. Nelson, Baker, 'Poncho' Vasquez, Whitfield, 'Lobo' SSG Galagois(?) (KIA).