Project Name
Willard, Tommy
Categories
1st Battalion,H&HC Troops,Tiger Troops
Vietnam 1st Battalion
Tommy Willard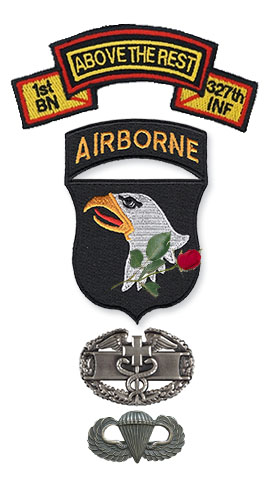 I was the Medic for Recon/Tiger Force 1/327.
Went over with the Brigade on the 'big boat' from Campbell in '65.
Terry DeVine column:
N.D. oral history project reunites veterans who served in combat
The Forum – 03/07/2004
It was a bloody day back in October 1965 when a medevac chopper landed with a load of casualties at the 85th Evacuation Hospital in Qui Nhon, South Vietnam.
On board was a 101st Airborne Army combat medic from Minot, N.D. And he was literally shot to hell.
Tom Willard's unit had been caught in an ambush and he had gone to the aid of a wounded trooper when he was hit.
Willard wasn't hit just once. He was shot five times. Three hits nearly severed his hand, which had to be amputated, another hit him in the leg and the most serious entered his back and came out his chest, severing an artery.
Willard knew he was bleeding out quickly so he ordered gunpowder to be poured into the gaping chest wound and ignited. That cauterized the wound and kept him alive for the chopper ride.
Waiting on the ground in Qui Nhon was Army surgical technician and 1963 graduate of Rugby (N.D.) High School, Jerry Ustanko. He'd been assisting doctors in surgery since the day he arrived in South Vietnam in August 1964.
Some days were horrific, like the day the 101st — in the battle of An Dinh — landed literally on top of a North Vietnamese army mess hall. They lost 52 dead, 86 wounded, 20 helicopters were shot down and 400 troopers were trapped and had to hang on until help arrived.
Then came the battle of the Ia Drang Valley, immortalized in the book, "We Were Soldiers Once … and Young," by Lt. Gen. Hal Moore and UPI correspondent Joe Galloway, in which the 1st Air Cavalry lost 350 dead in a matter of minutes.
Ustanko, retired after 30 years with Blue Cross Blue Shield of North Dakota, remembers the hospital being awash in blood, with stretchers filling every available space and spilling outside as wounded troopers were triaged.
"There were some terrible days," says Ustanko, who now works part time as a long-term care specialist for Noridian Services Inc. in Fargo. "But you had to do your job and you dealt with it ."
His wife Myrna, the Williston, N.D., native he married in 1966, knows those experiences are never forgotten. "If you only knew," she says.
"Jerry saw the dying, I saw the killing," says Willard. "He had it worse than I did. After the helicopter pilots, I think the medics, nurses and doctors were the bravest people in Vietnam."
Willard, now coordinator of the North Dakota Veterans History Project, recently reunited with Ustanko at a joyful reunion in Fargo. He credits Ustanko as being one of the people who saved his life.
Willard also put Ustanko in touch with two of his fellow Rugby High graduates. They lost track of each other and hadn't talked in nearly 39 years until Willard put them together again.
Jeff Voeller, the best man at Ustanko's wedding, and Ustanko joined the Army together on June 18, 1963, right out of high school. Voeller now farms near Climax, Minn.
Duane Volk, who now lives in Moline, Ill., and Willard went to 101st Airborne jump school together and both went to Vietnam.
Willard, a former professor of English literature at the University of North Dakota, has engineered several reunions between Vietnam veterans since taking charge of the Veterans History Project.
The highly decorated Willard, who is well connected in military circles nationally, has written 15 novels, including a series of books called the "Black Sabre Chronicles."
One of the books, which are fiction based on historical fact, says Willard, is called "Stone Ponies" and deals with his 101st Airborne experiences in Vietnam.
"It brought back so many memories," Volk said the day he talked to Willard and Ustanko in a phone conversation at Fargo's Holiday Inn. "There are not enough adjectives to describe it (the book). It's just perfect."
Ustanko, Voeller and Volk were buddies in high school and Ustanko saw Volk occasionally in Vietnam when he delivered mail in the wards at the field hospital.
Willard, who was hand-picked to serve with "Tiger Force" by then Maj. David Hackworth, the most highly decorated soldier to come out of Vietnam and now a military consultant for network television, delights in reuniting former soldiers who served together in combat. That is something the Veterans History Project allows him to do.
I should point out that Willard and Hackworth did not serve with "Tiger Force" at the time it is alleged to have perpetrated a number of atrocities against the Vietnamese people. Those charges are now being investigated by the U.S. government.
Ustanko and his medical colleagues kept Willard unconscious for three days while they flooded his grossly infected wounds with antibiotics, leaving the chest wound open to drain. He eventually was transferred to Walter Reed Hospital in Washington, D.C.
Things worked out well for both Willard and Ustanko. Jerry and his wife had three children and Tom and his wife had four.
Willard is dedicated these days to getting North Dakota veterans to talk about their war experiences as part of the oral history project.
And, when he has the opportunity, to rekindle old friendships forged in the crucible of battle.