Project Name
Sullivan, Charles (Chuck)
Categories
1st Battalion,Cobra Troops
Vietnam 1st Battalion
Charles (Chuck) Sullivan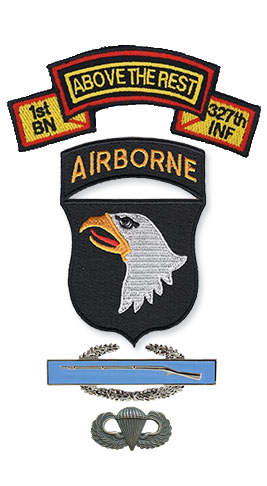 I enlisted Feb. 1965. Basic at Fort Polk, LA. Did AIT at Fort Gordon, GA. and went to Jump School July '65. Four of us were picked to go to Pathfinder School. Then I served with the Pathfinder Detachment at Fort Benning until May '66. I went to Viet Nam in May of '66. First was one of the CO's RTO's for Operation Hawthorne at Dak To.
I asked for a transfer to Pathfinder Unit. Ist SGT. Eichelberger told me "if you want to be a Pathfinder you can be point man in the 3d platoon".  After few days of KP I went to 1st sqd under SGT. Ware. I was with 3d plt. until Feb. '66 when I went to the "C" Co recon sqd, "The Cobra Rangers". Was with them until May '67.
I went to Fort Campbell, sent to the riots in Detroit then went to Fort Bragg HHC, 2/508.
Got out in Feb. '68. Went home to Southern California and went to school, didn't like it, quit, went to work, didn't like it either, but since I needed to eat I had to keep working. In '73 went to work at Pepsi Cola and worked there until I took early retirement in 2000.
Traveled some, moved to Des Moines, Iowa where I grew up and here I am. Oh yeah, per the 1st SGT I walked point for the 3d plt lots of times.