Project Name
Stephens, James F. "Doc"
Categories
2nd Battalion,B Company,H&HC
Vietnam 2nd battalion
James F. ``Doc`` Stephens
H & H, B Companies 1967 – 1968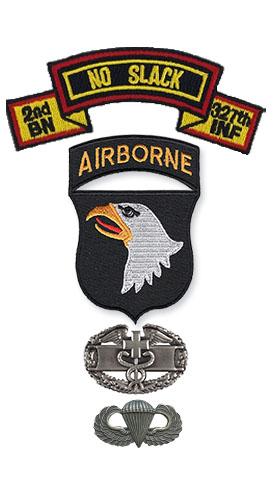 I graduated from the Fort Benning, Georgia Airborne Course on 30 June 1967. After Benning I was stationed at Fort Bragg, NC with the 82nd Airborne. Went to the Detroit Race Riots in July of that year with the 82nd. Barely had gotten in the door and they put me out on the tarmac with full combat gear for Detroit. Survived that little ordeal but caught pnemonia from walking the sidewalks in the rain. Went on leave and was sicker than shit. Went to an airbase 10 miles from my parents house and ended up there for over 30 days before they would let me travel again. On the way back to Bragg I ran into a bunch of 82nd Airborne in O'Hare Airport going home on leave. They were on travel orders to the 101st that was building up for Nam. Anyway, when I got back to Bragg there were orders waiting for me for the 101st Airborne at Fort Campbell, KY and training for Nam. That was around the last of August or September of 1967.
Now as the saying goes, the rest is history. Did my training with the brothers in the swamps, etc. Went to Nam in December with the rest of the division of 1967. Got transferred the end of March (I believe) and spent the rest of my tour with 2/327. Received some medals. Reading off my DD214 I have the CMB, Parachute Badge, Vietnam Service Medal, Vietnam Campaign Medal, Bronze Star w/"V", Bronze Star with OLC, etc.
After my little tour of Southeast Asia I still had a year left. I was an RA (I volunteered for that crap) and spent a year back at Bragg getting into trouble. I've lived in Illinois ever since and I'll be 58 in August.
I'm still working on pictures. The main reason I am hooking up with you guys is because I am trying to find some troops that know me and I them. When I say my memory is shit, I am telling the truth. I can't and have never been good with names.