Project Name
Spaulding, Fred L.
Categories
2nd Battalion,A Company
Vietnam 2nd battalion
Fred L. Spaulding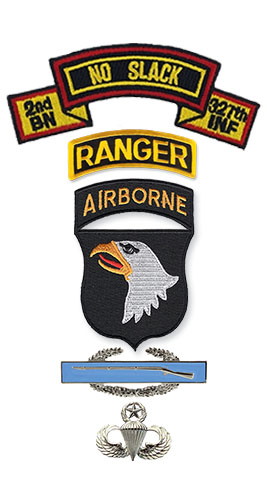 Lt. Col. Spaulding entered in the service in June of 1958 and spent the next 9 as an enlisted man before being commissioned. He retired from service in June 1987 as a Lt. Col. Throughout his career he exemplified the finest spirit of the U.S. fighting man as an Airborne Ranger, Pathfinder, Master Parachutist, Raider/Recondo NCO and Special Forces Officer. His superiors consistently called upon him for the toughest of jobs. Equally important to his combat heroics was his mentoring of classmates during the various schools he attended, particularly during OCS. Several Officer Candidates credited him with their success in graduating.
He served in three combat areas, Dominican Republic, Korea and Viet Nam; Commanded five rifle companies, two HOs' companies, and 3 Special Forces "P" Teams. He was Selected for United Nations Honor Guard duty at Eighth Army Headquarters, Seoul, Korea; NCO of the Year (1963) for 1st CAV Division, and runner up for Eighth Army NCO of the Year. He has been awarded the CIB, Silver Star, Distinguished Flying Cross, Bronze Stars w/V, Air Medals w/V, Presidential Unit Citations, and Valorous Unit Awards.
While serving as an instructor at the 82nd Airborne Div., Raider/Recondo, and Airborne Schools in 1965, then SSG Spaulding was selected among 4 other Rangers in the Battalion to be point man across the Duarte Bridge into Santo Domingo leading the 3rd Platoon, C Company, 2/325th and the 82nd into its battle since WWII.
As an Officer in Vietnam, Captain Spaulding showed his extraordinary willingness to "lead the way" when he was trusted to take charge of a chaotic Firebase Henderson which had been attacked during the night by an NVA sapper company causing multiple KIA and WIA. FB Henderson remained under constant mortar and heavy arms fire while Capt. Spaulding on the ground called in effective air strikes and evacuated the wounded. He later returned under fire and recovered all of the KIA. Further, in 1970 Capt. Spaulding was selected to plan and coordinate the battle of Firebase Ripcord in the vicinity of the A Shau Valley, I Corp, Vietnam. He was responsible for all aircraft in the AO and fire support during the battle with emphasis on the siege (1-23 July 70), the withdrawal of the firebase and two rifle companies in the vicinity, all while under heavy fire. During the withdrawal (23 July), three LOH helicopters (OH6A) from which he operated were consecutively damaged so badly by enemy fire that the were each rendered inoperable. The fourth OH6A he used that day was also heavily damaged, but it was flyable long enough to complete his mission of getting all troops out of the AO, opening the way for a massive B52 strike. Capt. Spaulding's disregard for his personal safety, while under intense fire, to accomplish his mission, is in the highest tradition of the credo. "Rangers Lead the Way".
LTC Spaulding, was inducted into the Infantry OCS Hall of Fame March 30, 2007; and is nominated for the Army Ranger Hall of Fame (and accepted), Induction Date will be August 8, 2007.