Project Name
Smith, William "Wild Bill"
Categories
1st Battalion,ABU Troops
Vietnam 1st Battalion
William ``Wild Bill`` Smith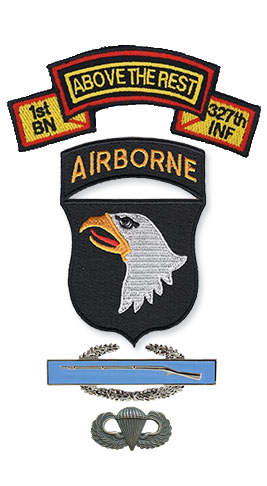 I had no fond memories of Phan Rang until we had the big Thanksgiving stand down there in '67.
I did make it down to the strip, and it was WILD with the entire Brigade there!
Went through P-School there in last week of June or 1st week of July 1967.
Met up with my entire Recon Platoon from Fort Campbell 1/502nd.
We had all flown over on separate orders, all 21 of us.
We were all from west of the Mississippi, most the southwest. Many from Calif.
We had all started out at Fort Ord, Calif. We were supposed to take Basic there, but after two weeks of crappy details and KP they loaded us on a plane in the middle of the night and flew us to Fort Campbell.
We took Basic, Jump School then AIT (they hadn't used the Ft. Campbell Jump School since WWII or Korea).
We were first assigned to A Co 1/502, but within a week or so they pulled 21 of us out to go to Recondo School. All were from my Basic Training Class ????
Once we completed Recondo School we were assigned to HQ&HQ Co 1/502 as the Recon Platoon.
We were at Campbell a year. Before getting orders for Nam a couple of the guys were sent to Ranger School, one went to the Special Forces, one went to Fort Sam in Texas to become a Medic.
We had 4 Recon Brothers KIA in Nam.
Both Rangers were KIA in Nam 1967.
Never heard anything about the brother that went to SF.
The Medic went To E-Company LRRPS 75Th Rangers was wounded with his entire team. He received the Silver Star for that action. Recovered and returned to E-Co LRROS. He was given his own Team and finished out his tour!
The rest of us all received Purple Hearts!
I was first wounded on July 27th, 1967. Twenty days after leaving P-School.
I left P-School on July 7th of 1967 to never see any of my Recon Brothers again.
We all got split up. Some to 1/327, some to 2/327, some to 2/502. Many went to 2/502 Recondos. Others went to 2/327 Hawks Recon.
Not sure how I ended up in a line company with ABU 1/327.
Originally we all had orders for the 173,"The Herd" I would discover years later.
The battle fought at "Mother's Day Hill" changed our orders to 101st. I'm happy that's the way the way things turned out.
I have just this past few years reconnected with some of the 21 from Recon 1/502 of 1966. Ran into First Recon Brother here in Phoenix in 2006 at the Vet Center here.
He and I then began a search for the others. So far we've tracked down about 10. Hope to have a reunion in Reno sometime this summer.
MAN THOSE WERE THE DAYS!
WB