Project Name
Simmons, Gary N.
Categories
1st Battalion,ABU Troops
Vietnam 1st Battalion
Gary Simmons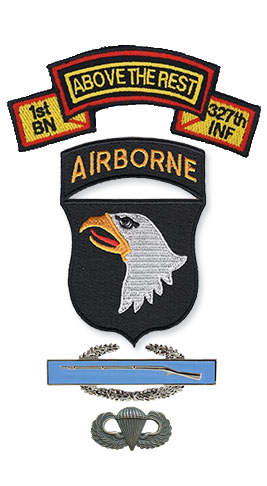 I enlisted 10/27/1964 San Diego California.
I was with A Company [ABU] from May 1965 to July 1966. Went over with 1st Brigade on the ship, in July 1965. Jan McCann and I went thru Basic and A.I.T. at Ft. Polk, then to Jump School at Ft. Benning, then on to Ft. Campbell.
I was assigned to A Company 1st Battalion, 502nd Infantry 2nd Brigade, 101ST Airborne Division. I was transferred to 1st Brigade in May '65 before deployment.
Went to Viet Nam in July 1965 as mentioned above on the General Leroy Eltinge.
I received the CIB, Purple Heart, Army Commendation Medal.
After Nam back to Ft. Campbell KY. till separation on 10/26/1967.
I spent 25 years as a carpenter in Phoenix AZ. The last ten years in sales. Three wives, four kids a number of step children. Life has been hard and it has been fun.