Project Name
Seidl, Gerry
Categories
2nd Battalion,A Company,E Company
Vietnam 2nd battalion
Gerry Seidl
E, A Companies 1969 – 1970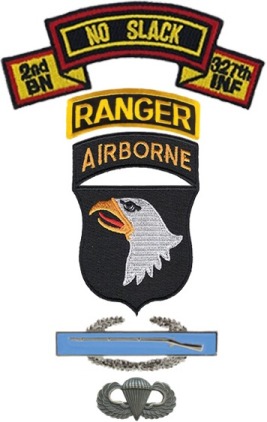 Plt Ldr E 2/327 (Radar), HHC S-3 Air, Commanding Officer A 2/327 Aug 70-Nov 70.
UCLA graduate 1968 entered the Army upon graduation Ft. Benning basic course, Ranger school, Airborne school. Went to Germany 2/30 3rd Infantry Division. Plt Ldr and CO C 2/30. Went to Jungle School in Panama—-arrived in Vietnam and the rest is history.
Left the Army in 1971, Worked in International Banking for 20 years and then went into the Hotel and Resort business. Currently living on the island of Tahiti, French Polynesia, but will be relocating to the States later this year (2012).
NO SLACK!
Gerry Seidl