Project Name
Schonberger, Richard C.
Categories
2nd Battalion,H&HC
Vietnam 2nd battalion
Richard C. Schonberger
H & H Company 1966 – 1967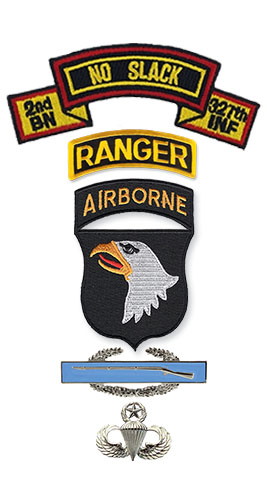 Served as Platoon Leader in the Co. E "Roadrunners", 1st ABG, 327th Infantry at Ft. Campbell 59-61. Served as a battalion staff officer in 2/502 Inf (Abn) and 2/327 Inf (Abn), then as CO, HHC 2/327 Inf, 1st Bde, 101st Abn Div, 66-67. Returned to VN as DSA, Tuy Phong District in the CORDS Program, 70-71, a district in which the battalion operated in the Spring of '67. Other troop assignments included 1st Cav (Korea) and 1st AD (FRG). Military experience primarily in operations and training positions, including G-3, USAITC, Ft Bragg, G-3 Ops, XVIII Abn Corps, and G-3 Ops, 3rd Army, in jump slot, FORSCOM and DA. Military qualifications include CIB, EIB, Master Parachute, Pathfinder and Ranger awards. Army retirement in January 81 was followed by 17 years as civilian in OSD. Has been organizing and leading vet tours to VN since 1996.