Project Name
Schildknecht, James
Categories
1st Battalion,Cobra Troops,ECHO Troops,Tiger Troops
Vietnam 1st Battalion
James Schildknecht
C, E (TF) Companies 1969 – 1970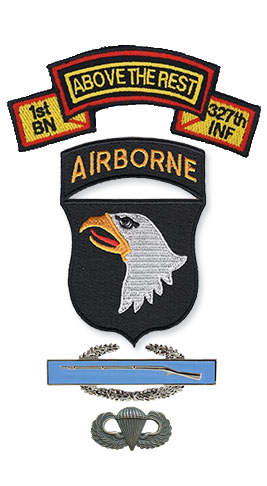 Drafted out of college early '68 as punishment for dropping a 5 credit accounting class (oops…quickly to 1A status).
Basic and AIT at Ft. Lewis, WA.
Invited to Officer Candidate School, Ft. Benning, graduated 5/69….then went through Airborne School. Assigned as instructor (black hat) at the Ft. Benning Jump School ground committee.
Spent a couple of months as XO of the 4th Student Bn, Abn, Training Student Brigade, Ft. Benning.
Concurrently, given collateral responsibility as "Survivor Assistance Officer"…and thank god, only had to notify three Georgia families of US soldier KIA in Nam.
Panama – attended/graduated from Jungle Survival School (9/69).
Republic of Vietnam – 10/69 through 10/70
Platoon Leader, 2nd platoon, C/1st/327th/101st Abn/Airmobile, 10/69-6/70; Platoon Sgt was SFC Churchill Graham, RTO was Randy LaFaver.
Platoon Leader, 1/327th Tiger Force (6/70-10-70); Platoon Sgt was SFC Alchin (famous character of the Timex watch TV ads in late 70s).
Returned to states, assigned to AIT Tactical Weapons Training group as Lead Range Officer and Instructor, Ft. Lewis (full circle, huh?)
.
ETS date 3/5/71. Returned to college (WWU – Bellingham) (Univ. of Washington – Seattle).
Presently married (Jan), three daughters (11, 14, and 19).
Nearly 30 years in commercial and government nuclear construction, operations, plant engineering and maintenance.
Just started 2nd career as consultant, Polestar Applied Technology.
Home: 2122 Newcomer Ave., Richland, Washington 99352