Project Name
Raymond, John T.
Categories
1st Battalion,Cobra Troops
Vietnam 1st Battalion
John T. Raymond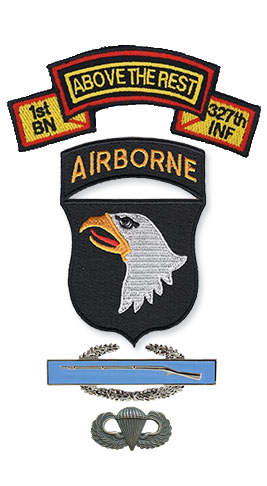 I was born and raised in Chicago, and proud to be a "South Sider" from "The Yards".
I enlisted right out of High School in January '66. Did the route of Basic at Fort Polk, Infantry AIT at Fort Ord, and Jump School at Fort Benning. How l was sent to Panama and 3/508 I will never know. Got to spend some time running around the jungle down there, went to JOTC with the unit and put in many 1049's for The Nam.
Around January of '67 I got orders for Nam. I ended up with Cobra 1/327, and got out of the country early in Duc Pho, when I was wounded and medevaced back to the World.
I wound up at Fort Bragg , went for my second tour with 3/503 '68 to '69.
I went back to Fort Bragg for a while, then reenlisted for Vietam in 1970 and wound up with DCAT60 in the Delta.
Got shot up again when we were overrun. Medevaced back to The World spent around a year at Great Lakes Naval Hospital, and eventually got Permanent Disability Retirement as a SSG at 70%, it was that or loose my 11F4P and be a LEG and I don't know what.
Goofed off and eventually got a degree in business. Worked for 25 years in heavy equipment manufacturing and retired.
Decided to leave Chicago and relocate down to the Fort Campbell area.
Married for 30 plus years to my wife Mae-great gal put up with tours 2 and 3 in "The Nam", time in the hospital and all the crazy stuff I did.
Had two sons Richard and Michael.
We have permanent custody of our two grandchildren Jennifer who just turned 5 and Christopher who just turned 3.
Goofing off down here in Kentucky playing a lot of golf and raising the grandchildren.
Still have some issues from "The Nam" but would do that part of my life all over again. Finally have been trying to put names faces and places back together. Still have not gotten the guts to go to The Wall in DC still too many ghosts.
Awards
CIB
Jump Wings
Bronze Star with "V" 2 OLC
Purple Heart 3 OLC
Good Conduct Medal
National Defense Service Medal
RVN Service Medal 8 Campaign Stars
RVN Campaign Medal
Meritorious Unit Commendation 1 OLC
RVN Cross of Gallantry 3 Awards
RVN Civic Actions Citation
Overseas Service Bar 6
COBRA 1/327 has and always will, have a special place in my life.
ABOVE THE REST