Project Name
Ramirez, Cruz
Categories
2nd Battalion,A Company,B Company
Vietnam 2nd battalion
Cruz Ramirez
A, B Companies 1968 – 1969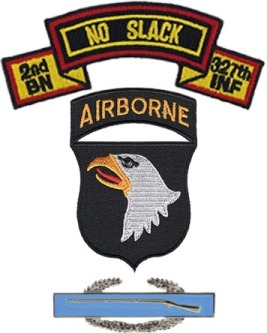 I arrived in Bien Hoa, Viet Nam Oct 1968. I had to take two weeks of jungle training before being placed with a unit. Then my orders came and I was placed with the 101st Airborne unit. We flew from Bien Hoa to Camp Eagle. There I was placed in Co. B. – 2nd Plt. with the 101st Airborne 2nd Battalion-327th Inf. -1st BDE. We operated close to Fire Base Tomahawk. We used to camp during the day on a bridge south of Fire Base Tomahawk, close to the villages. We protected the villages and at night set abushes. Plus we operated all over the country.
Here are some places I remember, – Ashau Valley, Bastogne, Roung Roung Valley, Fire Base Thor close to Laos, and over the mountains and close to Ashau Valley.
Some of my No Slack brothers that I remember from Co. B were Sgt. Hector Lucero, Romero, Jesse Sanchez, Jesse Soliz, Maurice Rogers and Robert Hanson.
Then in the middle of April of 1969, I was transfer to Co. A, 1st PLT. same battalion. We operated same areas as above. We operated around Fire Base Tomahawk. I don't remember many guys from Co. A. I remember Afredo Garcia, I think Robert Hanson went to A Co. like I did.
I came home in Oct. 1969 and served my last six months at Ft. Hood, Tx. I'll never forget my brothers.
No Slack
Cruz Ramirez