Project Name
Pfeiffer, Kenneth
Categories
1st Battalion,Cobra Troops
Vietnam 1st Battalion
Kenneth Pfeiffer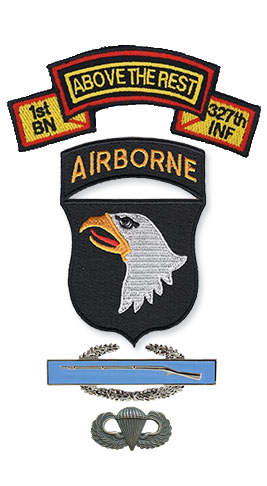 Spent August at Repl Det at Phan Rang. Detailed to secure the Phan Rang 'port facility' Sep – Nov.
One major attack on adjacent pump station killed 6-8.
Joined C-1/327 late Nov in Kontum. Served in 1st Plt as assistant gunner then gunner until late Jul '67 in Duc Pho.
Assigned to Ft. Campbell, B-3/187. Transferred to 82nd Abn at Ft. Bragg in Oct. Served there until ETS Jan '69.
Joined Army National Guard Apr '74. Retired May '98.
Married, 34 years, 2 sons, one grand daughter.
I continued my military career in the Texas Army National Guard.
I commissioned through an OCS program in 1976.
The photos are my command photos taken in about 1989 when I commanded 2nd Battalion 141st Infantry (Mech) 49th Armored Division, Texas Army National Guard.
I retired in 1998 as a Colonel.