Project Name
Pagel, John E.
Categories
1st Battalion,Brave Rifle Troops
Vietnam 1st Battalion
John E. Pagel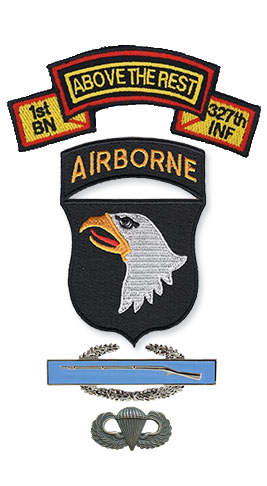 I was a member of 1st. Squad 3rd. Platoon B Company 1/327th. Inf. from May of 1965 until my ETS date of Jan. 26th. 1966. I was originally assigned to the Division in July 1963 to the 1st. Airborne Battle Group 506th INF. During the reorganization of the Division from Battle Groups to Brigades in February of 1964 I was transferred to HHC Company 3rd. Brigade. Stayed there until May of 1965 when I was transferred to B 1/327th. Inf.
The 1/327th left Ft. Campbell the morning of July 9th, 1965 by commercial airliners from Campbell Army Airfield and flew into San Francisco International and then by Greyhound Bus to the dock at Alameda Navy Yard where we boarded the U.S.N.S. General Leroy Eltinge for that glorious 21 day cruse across the "BIG WATER".
The trucks didn't pick us up at the barracks until about first light the morning of the 9th. but they filed us out of the barracks about 4 the afternoon of the 8th. saying the trucks were on their way. That was to be the first night of sleeping on the ground outdoors.