Project Name
Neathery, Charles
Categories
2nd Battalion,E Company
Vietnam 2nd battalion
Charles Neathery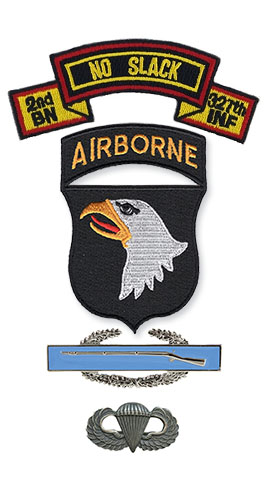 Hola. I had the pleasure of meeting you guys at a little airport when it was raining cats and dogs for a jump or two that day but that was the only time I had to spend with you guys. You certainly have all my respect and appreciation for all the things that you do with the 327th.
I became a Hawk when I first arrived in Vietnam, January '71. Joe Adcock was my team leader and I was the team's RTO utilizing a PRC 77. That first patrol, we made contact with the enemy and killed four enemy soldiers in the valley and also my first experience with leeches, so that day I became a man. The leeches scared me to death! After a while the leeches became a part of our entertainment in the bush. I have a most fond memory of all my team mates and I dearly respect them all. I'm proud to say that what I learned, being a member of the 101st Airborne Division, as a Veteran still carries this old man on. I retained the rank of Buck Sgt. before leaving Vietnam. I have a CIB and also have my Jump Wings. When I ETS from Vietnam, I went to college for a year and then reenlisted. I became an Airborne instructor at Ground Training Committee at Fort Benning, Georgia and also graduated from ITC, NCOES, Jump Mastering, to name a few. Of all my time in the service, I am most proud of being part of 327th.
If I may, I have snuck in some pictures of my son, Peter, being a proud parent of a combat veteran, and a veteran myself, I know how it feels to be a proud father and thank God everyday that my son was safely returned from Somalia. Peter was wounded in his right arm during Black Hawk Down and was in B Co., 3rd Ranger Batt., 75th. I want to thank you for letting me put him on my page because Peter became a Ranger because he was very proud of his father being he was from the 101st Airborne Division.
I retained the rank of SSGT before leaving the service right after the fall of Vietnam in 1975.
Remember, Dale, any 101st Veteran ever have that need to come down south to Texas, to follow me to the coast for great fishing, Mi Casa es su Casa.
Warmest regards,
Charles