Project Name
Nance, Ken "Doc"
Categories
1st Battalion,ABU Troops,H&HC Troops
Vietnam 1st Battalion
Ken ``Doc`` Nance
H & H, A Companies 1968 – 1969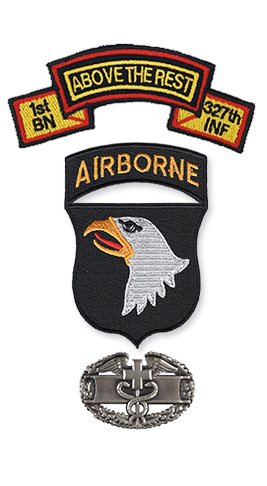 After my year with 1/327 (Nov 68-Nov 69) I went to Nha Trang and worked on the surgical ward at 8th Field Hospital for 7 months (Dec 69-Jun 70) with the 44th Medical Brigade. When that brigade sent its colors home, I was attached to USARV and spent my last 2 months in-country running a small dispensary at Vung Ro Bay (the deep water port that supported the big Air Force Base in Tuy Hoa). I ETSed 7 Sep 70.
After a month at home in El Paso, Texas, I took a 3 month vacation in Europe (Eu-rail Pass) taking my little brother along as a high school present to him. (I add that after nearly two years in Viet Nam, I came home to a country where I wasn't old enough to vote or drink alcohol).
Started school at University of Texas at El Paso on my GI Bill and worked and went to school (life-guard at YWCA, operating room technician, firefighter for the city), got married and started raising a family while in graduate school (two sons – Jonas, 26, a research geneticist at Texas Tech University and Simon, 25, an industrial engineer for Stihl in Virginia Beach).
Backed into teaching English as a Second Language in 1983 and spent the next 20 years teaching Arab military students (14 and a half years with Emiratis and just over 5 years in Jeddah, Saudi Arabia). Left Saudi in June.
Now working for an ExxonMobil subcontractor in Malabo, Bioko, Equatorial Guinea (Central Africa, next to Cameroon). 28 days on / 28 days off – I feel like I'm half-retired!