Project Name
Mc Cann, Jan
Categories
1st Battalion,ABU Troops,Brave Rifle Troops,H&HC Troops
Vietnam 1st Battalion
Jan Mc Cann
B, H & H, A Companies 1965 – 1966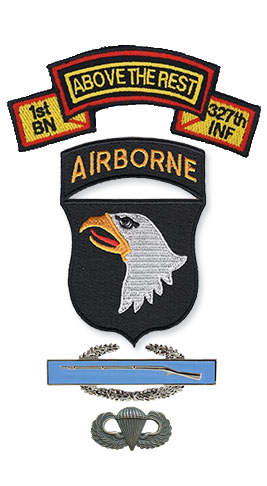 I was born and raised in Bermuda.
Married to Charlotte for 27 years. She was born and raised in Florida.
Nine children, yes nine, 4 girls & 5 boys ages 10 to 26.
Aiken, South Carolina has been home for 12 years.
Last 20 years in the nuclear energy field, currently with Westinghouse at the Savannah River Site – a DOE facility.
Just discovered the web site for 327th and wanted to be added to those wanting to make contact with old buddies. I was on the Leroy Eltinge with "B" Co. 1/327.
Sometime around Christmas of '65 I was transferred to HHQ Co. to be a jeep driver for a guy who had just made captain.
Shortly afterwards I was transferred to "A" Co. and about March of '66 was shot through the left thigh in an ambush. I was Medivaced to Nha Trang for a month or so then went back out with "A" Co. until my year was up. At that time a buddy name Gary Simmons and I extended for a desk job with a signal unit in Chulon.
One guy I'd like to find out about is Sgt. Thiebault, who we called Mr. "T". He was my squad leader in "B" Co. then made platoon Sgt. He was moving up the ranks fast and definitely was an incredible soldier.