Project Name
Mallicoat, Earl W.
Categories
2nd Battalion,A Company
Vietnam 2nd battalion
Earl W. Mallicoat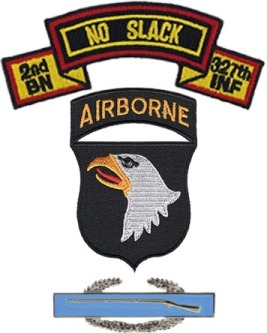 Served with 2/327 Co. A 1st Platoon Gun Team. Carried M-60 from Oct 68 till July 69. Firebase Tomahawk, worked that AO when not in 'A' Shau twice. Lt. Lee was Plt. Leader, Soul Popo Squad Leader, Sgt. Fry, Young, Smith, Miles, Wolf & Prudey. He carried M-79 in our squad. Last AO was road security with Seabees building road through to A Shau Valley. Last firebase was Berchtesgaden. Late July 69 lifted to Camp Eagle. Spent last 3 mo. as company in charge of weapons repair till Oct 69. Sorry guys, can't remember more names. Luni Point Man, Gil Clancy Sqd. Leader, Tom Moriston, my AG for awhile. Anyone serving during this with a better memory than me, please get in touch. NO SLACK!