Project Name
Lintecum, Russell
Categories
1st Battalion,Cobra Troops
Vietnam 1st Battalion
Russell Lintecum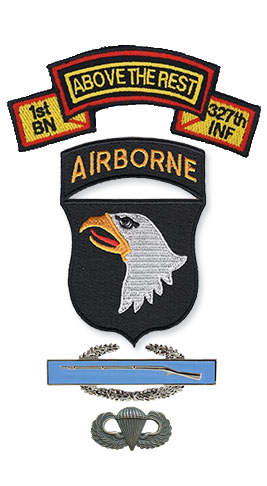 VIETNAM COMBAT VETERAN Sarge Lintecum did three tours of duty in Vietnam, 1966-'67-'68. His first tour was eleven months in the jungle/hospital with the 101st Airborne Paratroopers as a combat infantryman.
During that time he advanced to Squad Leader. Sarge came down with malaria three times, jungle-rot, immersion-foot, two varieties of internal parasites, a shrapnel wound in his leg, exposure to Agent Orange, and Post Traumatic Stress Disorder which Sarge says is the "Vietnam Blues".
Sarge received the Purple Heart, the Good Conduct medal, a three tour Vietnam Service Medal, Parachute Jump Wings, the Combat Infantryman Badge, the National Defense Service Medal, the Vietnam Campaign Medal, the Army Commendation Medal, a Valorous Unit Emblem, a Republic Of Vietnam Gallantry Cross With Palm Unit Citation Badge, and five Over-Seas Bars.
SONGWRITER Sarge's blues music, spoken word, and jazz recording, "Vietnam Blues-Combat Tested Blues . . . For Peace", (on CD and cassette), on which Sarge sings, plays harmonica, and wrote the songs and poems has received five Honorable Mention Certificates in Billboard Magazine's National Song Contest.
MUSICIAN Sarge, a fine harmonica player, has been endorsed by Lee Oskar, of WAR fame, and owner of the Lee Oskar Harmonica Company. Lee Oskar has come to Phoenix on four occasions to do benefit concerts that Sarge and his wife and business partner, Leslie Nan Lintecum, conceived of and organized. Sarge has a powerful voice and stage presence. He performs at concerts and veterans' events around the nation. Mr. & Mrs. Sarge Enterprises advertises "Vietnam Blues-Combat Tested Blues . . . For Peace", in "Vietnam Magazine", around the world.