Project Name
Larabel, Douglas F.
Categories
1st Battalion,ABU Troops
Vietnam 1st Battalion
Douglas F. Larabel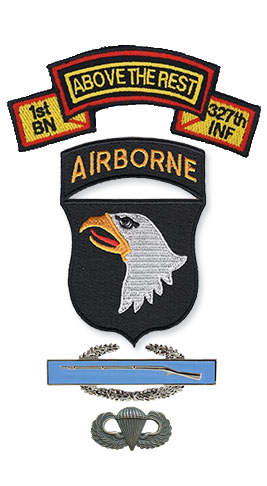 Drafted in Sept '65, after A.I.T. as a field wire man, and jump school I was stationed at Ft. Bragg. I was then sent to Viet Nam in Jan of '67 to the 101st where I was with B Co 501st Signal Bn.
While stringing wire to a BN switch board, I watched a chopper load of Grunts unloading, all were dirty with a growth of whiskers and looking cool, that is when I met 1st Sgt Dayco who gave me a letter of acceptance, my commander allowed me to transfer and changed my MOS to 11B.
I was assigned to ABU May '67 I left them in Jan '68, went to Germany with the 509th, until Dec '68 when I re-upped to go back to Nam.
I was assigned to E Trp 17th Cav 173 ABN until Dec '69.
I returned to Viet Nam for my third tour in Mar '71, with C Co 503 Inf 173rd until they stood down to return to the states. I still had about 6 months left on that tour so I was sent to the 3rd 187th back with the 101st.
I retired in '91, it was a good and wonderful career, I spent time in Alaska, Panama, Europe, Ft. Drum, Campbell, Riley, Knox, Gordon, Benning, and Ft Bliss to name a few. I was a grunt, squad leader, plt. sgt, re-up nco, drill sgt. and instructor among other things.