Categories
1st Battalion,Brave Rifle Troops,H&HC Troops,Tiger Troops
Vietnam 1st Battalion
Ed Kurth
B, H & H (TF) Companies 1966 – 1968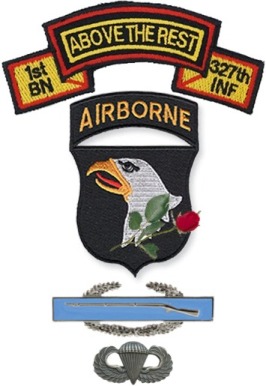 Ed passed away 4-22-20. He was such a GREAT guy and will be sorely missed!
Enlisted in the Army Jan. 1966
Basic Training Ft. Dix NJ
AIT 11B Training Ft. Gordon GA
Jump School Ft. Benning GA.
Arrived VN Nov '66 and assigned to 1/327 B Co in a rifle platoon and Tiger Force on a Recon Team
Evaced to Japan Feb 68
Assigned to 1/325 at Ft Bragg NC in B Co. as a squad leader and ROTC Training Cadre
Discharged Dec 1968
Live in Glassboro NJ with wife Terry, three children Ann Marie, Lorien & Billy
Seven grandchildren Amanda, Mercedes & Karley Gares and Curt, Cassandra, Katelynn & Edward Brittin.