Project Name
Kolenc, John
Categories
1st Battalion,Cobra Troops
Vietnam 1st Battalion
John Kolenc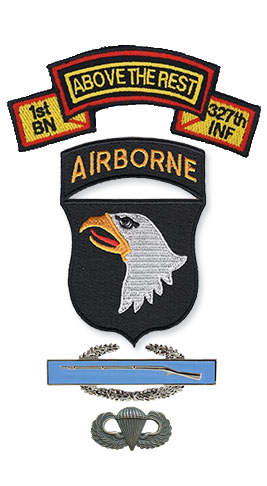 John (Peppy) Kolenc
Cobra Co l/327
1965-1966
I enlisted in the US Army 1963. I went to Ft Polk, Louisiana for basic training and was then assigned to Ft. Leonardwood, Missouri. From there I was sent to Fort Benning, George for Jump School and then to Fort Campbell, Kentucky where I was in Head Quarters Co. 1/327 Infantry 1015t Airborne. At Fort Campbell the Army made me a cook of all things and on occasion I was the driver for a high ranking officer.
My superior officer was transferred in 1965 to Germany, and he asked if I would go with him. I said no because I liked the duty I had at Ft. Campbell, but unfortunately I was sent to Nam later that year. My rank was E-4.
It was my good luck to be assigned to "Cold Steel Cobra," C Co. 1/327. I left for Nam on July 7th, 1965 on the boat Gen LeRoy Eltinge. This boat was pulled out of retirement for the trip and went dead in the water twice, once for a day and a half.
When I landed in Nam, the First Sergeant (Top) said "there's no kitchen here, grab that M-16 ~ Your MOS is 11B (Infantry). "Funny how some things you remember and some you don't. I was a radio operator for a while because I was 6'2". I was then given the honor of being a Machine Gunner.
While in Nam I was stuck with a small piece of steel and had to go to Saigon for surgery on my left hand to remove a golf ball infection. On arrival to Nam I weight 160 Ibs. When I came home I weight in at 140 Ibs.
I was discharged in June, 1966 and flown back to California. We landed about 2AM, and by 6 AM, we were fed, paid and became a civilians again. I went right to the airport and made a beeline home.
I have been married to my wife Rose since 1967. She is wonderful to put up with me. We have three great children; Michelle, born March, 1969; Jason born June, 1971; and, Alicia, born June, 1972. We live in Mentor, Ohio (just 18 miles east of Cleveland) and enjoy boating on Lake Erie as well as the adjoining tributaries. I have been a professional salesman in the automobile industry since 1968 to the present time.
I am very proud to have served in the "Above the Rest" Battalion and wish to thank all of my brothers both here on earth and those in heaven, you will be with me always. It took me 20 years and my first Cobra Co Reunion to be able to talk about Nam. Many thanks to all my brothers and their families for helping me find the way.
John Kolenc
8803 Yorkwood Ct.
Mentor, Ohio 44060