Project Name
Joyce, Thomas R.
Categories
1st Battalion,ABU Troops
Vietnam 1st Battalion
Thomas R. Joyce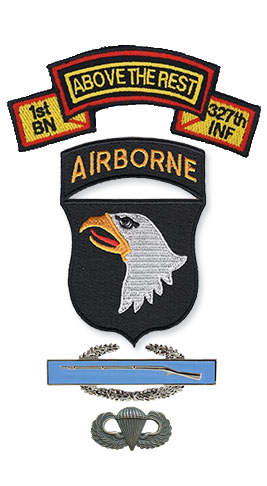 I was born in Camden, N.J. Jan 8th, 1946. Attended Clearview Regional High School Mullica Hill, NJ.
Enlisted in the Army prior to graduation in June of '64. Basic and advanced training were at Ft. Dix, N.J., then on to Jump School, Ft. Benning, Ga. After Jump School, I was assigned to FT. Campbell (505th). Volunteered for Vietnam, assigned to ABU 1/327th 3rd platoon.
I went over with the Brigade on the Eltinge.
After arriving in Vietnam, we were greeted by Gen. Westmoreland, who had stated that we would be out in the bush forever, this was true as we did not set up home base in Phan Rang until Oct./Nov. of '65.
Received CIB in Qui Nhon in '65.
Left Vietnam in late June or early July '66 (not sure), all I remember is a lasting effect from Dak To.
After arriving back to the states was I was assigned to the 82nd.
I finally got out in '67. Could not find myself as many of us couldn't. I was married the first time and that didn't work. So I left NJ and ended up in Ca. in '75, this is where I met my second and present wife, Suzanne.
We have been married 26 years now with 4 children, 3 grandchildren and one on the way. I have been very active in AO issues and have been fighting for our rights and benefits since '92. We had lived in Hawaii for 6 years and that is where I got involved. I was diagnosed with AO problems.