Project Name
Hudson, Robert C.
Categories
2nd Battalion,C Company
Vietnam 2nd battalion
Robert C. Hudson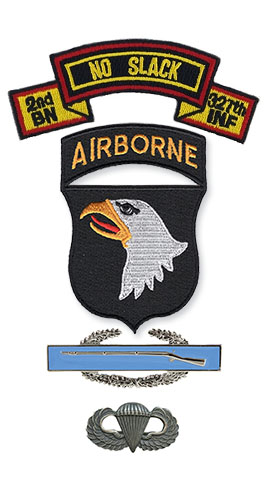 Robert C. Hudson
Robert C. Hudson is a 1964 graduate of the U. S. Army Infantry Officer Candidate School at Fort Benning, GA. Upon graduation from O.C.S., Hudson was assigned to the 2nd Battalion (Airborne), 327th Infantry, 101st Airborne Division, at Fort Campbell, KY. Hudson deployed to Vietnam aboard the USNS General Leroy Eltinge with the First Brigade, 101st Airborne in 1965. He served two tours in Vietnam. During his first tour he was a Platoon Leader in the 2nd Battalion (Airborne), 327th Infantry, 101st Airborne Division, and after being wounded near An Khe and later returning from the hospital served as Assistant S-3 of the Battalion. During his second tour in Vietnam, he served as a Military Assistance Command advisor to a South Vietnamese Army unit. During his two tours Hudson was awarded the Silver Star for Gallantry in Action, three Bronze Stars for Meritorious Service Against Hostile Forces, the Purple Heart for Wounds Received in Action, the Combat Infantryman's Badge, the Republic of Vietnam Cross of Gallantry with Gold Star and the Republic of Vietnam Honor Medal. During his service in Vietnam with the 2/327th Infantry, the battalion was awarded the Presidential Unit Citation and the Valorous Unit Citation. Following his active duty years, he remained in the U. S. Army Reserve and retired at the rank of Major. He is a long time supporter of the Vietnam Veterans Memorial Fund and a member of the 101st Airborne Division Association and The 101st Airborne Division Vietnam Veterans Association. He is a member of the Military Order of the Purple Heart. He is a graduate of the Army Command and General Staff College.
In civilian life, Mr. Hudson enjoyed a successful career as a health care executive, and was very active in community volunteer and veterans efforts. He is President & CEO Emeritus of AvMed Health Plans and its parent corporation, SantaFe HealthCare, Inc., based in Gainesville Florida and Miami, Florida. Prior to his retirement on December 31, 2006, he held a variety of senior management positions with the organization over a 28 year span, including President & CEO since January 2000. He continues to serve on the AvMed Health Plans Board of Directors. SantaFe HealthCare, Inc. is a 501C3 Not-For-Profit holding company whose mission is "To create and sustain a family of pre-eminent health related organizations." AvMed Health Plans is Florida's largest and oldest Not-For-Profit health plan whose mission is "To improve the health of our members." Other entities within the SantaFe HealthCare family of companies include the North Florida Retirement Village, Bayview Gardens Retirement Village, and Haven Hospice.
Hudson received his bachelor's degree from the University of Alabama, an MBA and master's degree in Health and Hospital administration from the University of Florida and is a 1990 graduate of the Stanford University Executive Program. He is an adjunct assistant professor in the University of Florida graduate program in Health Care Administration.
Hudson is a Fellow in the American College of Healthcare Executives; is a Certified Managed Care Executive and served as a mentor in the AHIP Executive Leadership Program (America's Health Insurance Plans). He serves as a member of the Orange Bowl Committee in Miami. He is on the Board of Directors of the Florida Chamber Foundation, and is the past Chairman of the Board. He is a member of the Board of Directors of Florida TaxWatch, the Board of Directors of Kaiser-Permanente Foundation Health Plan of Georgia and is Secretary of the Board of Directors of the Lower Suwannee and Cedar Keys National Wildlife Refuge. Mr. Hudson was the 2007 chairman of the Alexis de Tocqueville Society of the United Way of North Central Florida. Upon his retirement from AvMed Health Plans and SantaFe HealthCare in December 2006, he was presented with the Lifetime Achievement Award by the Florida Association of Health Plans.
Hudson has been married to the former Barbara Bailey of Deland, Florida, a Registered Nurse, since 1966. His son, Robert C. Hudson, Jr., received his undergraduate degree from The Citadel, The Military College of South Carolina, and a masters' degree from the Rosensteil School of Marine Science, University of Miami. His daughter, Stephanie Hudson Castro, received her bachelors' and master's degree in Education from Valdosta State University, Valdosta, Georgia. Mr. Hudson and his wife Barbara have four grandchildren ranging in age from eleven to three years.