Project Name
Hickman, Daniel R.
Categories
2nd Battalion,A Company,C Company,E Company
Vietnam 2nd battalion
Daniel R. Hickman
A, C, E Companies 1967 – 1968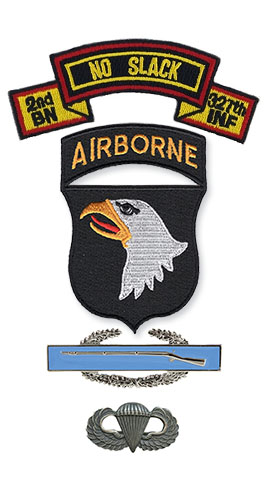 We got in Vietnam 23 Dec 67. We were supposed to go to 173rd but our plane broke down in Japan. We were all supposed to land with LBJ and they had big shindig with Westmoreland, and the one plane did all go to 173rd. We were the first Airborne troops to fly out of Benning. The Man, LBJ, wanted two plane load of paratroops to come with him,,,he was pissed cause he lost us in Japan,,,,,Chargin' Charlie and Barsonni,,,put us on standby for them,,,Jim Joiner might remember us,,,I know we got some extra training,,,,,,,,,I loved those Chili Dogs and Frosties at the edge of Phan Rang,,,,,,did some training with Australia SOS.. they wouldn't let us buy a drink,,,,,,,,,,lol.,,,,,,,,,,oh yeah, they had us on stand-by to jump with 3-506,,,They found out the NVA had the LZ rigged before the OP was named,,,,called it off…..but we were in barb wire for a while,,,,,,lol.
I think the First Sgt just put me on Burning Shit detail……..lol……." We had just come back in from a mission and were still in tents at Camp Eagle and I think I was PO'd 'cause I just found out I was going to Singapore, instead of Australia. I soon found out that Singapore was a first class place, and it was really a fine place for Chinese Soul Mates,,,,,,,,lol."!!! I was in A Co startin' at Song Be around 27 Jan 68, left A Co 16 March 68, joined C Co 29th March 68, got wounded 17 April 68 (Passover Day), two operations,,,came back 25 June 68,,,,,,,joined Hawks 29 Aug 68,,,,left 20 Dec 68….Me, Charlie Howard and Gary Bobo………..
No Slack,,,,,,,Lurch The Kentuckian