Project Name
Hansen, Dale
Categories
2nd Battalion,D Company
Vietnam 2nd battalion
Dale Hansen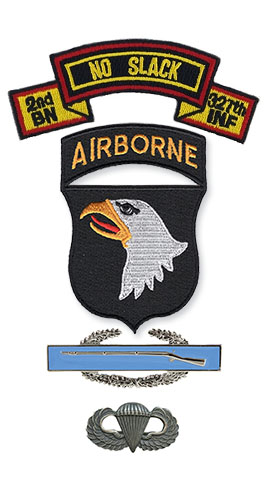 I was given orders for Vietnam right out of Jump School in June 1968. Upon completion of P Training in Bien Hoa, I was assigned to D-2/327th. We were told they had just been decimated by their own air strike and were desperate for replacements. Joined the company in the A Shau Valley in early August. By November the battalion was operating in the "Bowling Alley". Delta Company was on Hill 88, pulling security on the Lang Co Bridge and keeping a watchful eye on the nearby Seabees. I was carrying the M-60 so was assigned with three others to perimeter guard at night of the Seabee Camp and during the days we'd hide up on the side of the mountains watching out for the Seabees below.
January 1969 a Sniper School Class was held at Camp Eagle and operated by the Battalion XO, Major Fry. We were issued brand new National Match M-14's right out of the box. Life was good. Over the next few months we performed numerous sniper operations from Hill 88, moving only at night. On a three sniper team operation in March of '69, I took up the point when our front element led us into some impenetrable brush. We moved into our position to find the entire area had been booby-trapped. My slack man (Ken Jolly, another sniper) and I were hit. McGruder stepped on a Bouncing Betty. It hit him in the chest with only a puff of smoke. Jolly and I were medevaced. After spending a couple of months in hospitals, I returned to Camp Eagle where all the battalion snipers had been given rear jobs, if they wanted them. I worked in the rear two or three weeks in supply before requesting field duty again rejoining the company in the Roung Roung Valley. Was carrying the radio for our new platoon leader when we were ambushed near Hamburger Hill. He was WIA and evacuated. Left the field in late July to head back to the "World".
Assigned to the A/75th Rangers at Fort Benning. We ran the RVN Orientation School raining untold horror on the trainees until right after Christmas 1969, when the whole unit was reassigned to Fort Hood, Texas and "Project MASSTARS". I took a 30 day "Early Out" the following December to return to college.
Finding and now being back in the lives of so many of my Screaming Eagles Brothers brings untold joy into my life.
No Slack, Above The Rest, Rangers Lead The Way and Welcome Home!