Categories
1st Battalion,ABU Troops
Vietnam 1st Battalion
Terry (Gray Ghost) Gray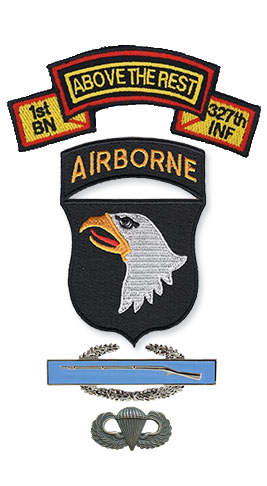 I was in Abu company 1st of the 327th 2nd platoon from June 9th 1966 until I was wounded on Mother's Day Hill on May 12th 1967. I went to sniper school around July 5th for a week after Dak To.
Well it was only 37 years ago to the day (7-22-03) I was in Tuy Hoa Vietnam, but my first day on guard duty was in DakTo. I remember the date very well. It was the day Top sent me to supply to get my M-16. While I was on my leave before coming over the news on TV was nothing but about the 101st in heavy combat in Dak To. I got off the Caribou at the airstrip and found A/Co. Top didn't have a shirt on so I could see all the band-aids on his back and chest and his head was wounded too. He sent me over to supply, nobody was there, but there was a pile of M-16's in the middle of the tent, say 3 feet tall and 8 feet wide. I really had to look through the pile to find one that wasn't shot up or twisted in some manner or the other. I go back to Top and he tells me where to show up at dark to pull guard duty. Well, all was quiet until about 12:00 midnight, then the flares started going off, red flares, shit, white flares, ?, Top told me if I fired my weapon I better have a dead body in front of me. I held fire, I held fire till I realized it was the fourth of July 1966. Was anybody there watching the movie for the night and can tell me what it was? I remember. Does anybody remember Dean Deffenbaugh, the medic of Tiger Force, who was a good friend of mine from high school, Stranahan high in Fort Lauderdale Florida? I didn't see him that night but we did hook up in Tuy Hoa. My best friend in Vietnam was Steven Jars. remember him St. Lloyd?
KONTUM JUMP it was a practice jump for the first combat jump of Vietnam except the 173rd made a jump a couple of weeks later and they got the credit and the ribbon for the only combat jump until that time. It made "Life" Magazine but it was a PUBLICITY stunt. The deuce-and-a-half's were on the drop zones 30 minutes after they hit the ground to pick up chutes. I got back from R&R the morning of the jump and was told to take THE DAY OFF.