Project Name
Gerhard, Richard "Pop"
Categories
1st Battalion,Brave Rifle Troops
Vietnam 1st Battalion
Richard ``Pop`` Gerhard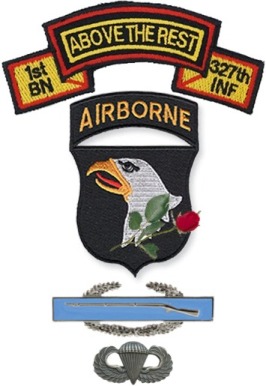 Pop passed away peacefully on Tuesday, 06/20/05 at 8:05 PM
I was in Nam from March of 67′ to March of 68′.
I was with "B" co 1/327–3rd plt–3rd Sqd.
My company CO was Edgar Burch The Captain's call sign was "THE BEAR".
My Plt. Leader was Lt. David Fletcher, call sign "Roadrunner".
1st Plt. Leader was Lt. Robert Duffer, call sign "Charlie Brown".
Col. Gerald Morse, call sign was " Ghost Rider".
2nd Plt. Leader was Capt. Anthony "Tony" Avgoulis call sign was Tony Tiger.
First Sgt. was George Sekerak.