Project Name
Gearing, Ted W. "Doc"
Categories
1st Battalion,Brave Rifle Troops,H&HC Troops
Vietnam 1st Battalion
Ted W. ``Doc`` Gearing
H & H, B Companies 1970 – 1971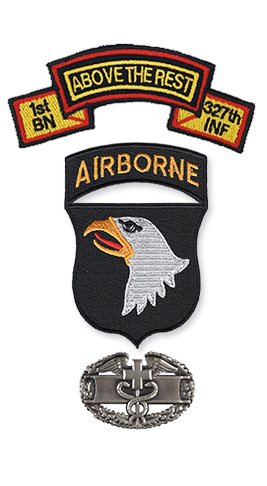 I was drafted on my birthday, August 25, 1969. Went to Medics school at Ft. Sam Houston in San Antonio, TX. Next thing I knew it was February, 1970 and I Hueyed into the jungle to B Company……facing Capt. Terry Mills without food, water, or ammo (minor mistake on the REMF's). I did have an M-16 and an aid-bag full pills, the labels of which were already starting to wash away.
I spent most of my tour with B Company, 2nd platoon, although I had a short hitch with Cobra Company.
I dodged bullets and RPG's on 882 and elsewhere…..and learned to excel in the "low crawl". Doled out "daily dailies", "Monday Mondays" and tried to help those in their hour of need.
I Finally got back to the rear (safe now, right?), extended my tour of duty for 2 months to get an "early-out" from the Army….only to get sent back out to B Company because they didn't know "what they were going to do with me in the rear"!!! Eventually made it back to rear where I ran MEDCAP's to the villes. I left Viet Nam on April Fools Day, 1971.
I Served with guys named "Doc" Valenti, Buddha, Hillbilly, Tennesee, West-by-God, Gabe Tartaglia, Booray, Johnny Johnson, Sgt. Harvey, and Sgt. Boles.
I came home and spent the next 20 years trying to find myself…..been married now for 15 years, getting ready to retire from the post office in Springfield, Missouri.
Peace to all of you……."Doc" Gearing