Project Name
Fox, Barry W.
Categories
2nd Battalion,A Company
Vietnam 2nd battalion
Barry W. Fox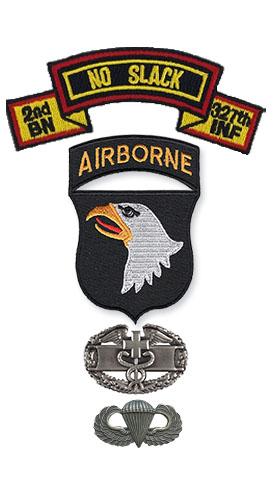 1966 Enter Army, Go to Ft. Jackson but then diverted to Ft. Gordon for Basic
1966 Go to Fort Sam Houston for Medic Training
1967 Go to Ft. Benning for Jump School
1967 Go to 101st at Phan Rang
1967 Assigned to 326 Medical
1967 Assigned to A 2/327 while near Duc Pho, do time with B Co. also..
1967 Return to 326 Medical, become Dust Off RTO
1968 Go to Germany 2/509th Airborne Infantry
1969 Go to 8th Medical ( Airborne)
1969 Leave the Military…….
1970 Become Pittsburgh Police Officer
2000 Retire, become Private Investigator
I was only in the field for a few weeks, Medics were being shifted and lost at a good rate. I did not do anything extraordinary but were around fellows that I truly marveled at. Had limited action but did a good job of patching up the guys that I did tend too.
The worst day of my life has been while taking the dispatches for Dust Off while the group was near Chu Lai, a call came in for my old company, where they had been hit really bad and had a lot of KIA. The terminology on the radio was Dogwood Six for KIA & something like Dogwood Eight for wounded. Whatever it was, I was hoping that the guy on the other end had it screwed up because there far more killed than wounded.