Project Name
Ferrante, Paul
Categories
1st Battalion,ABU Troops,ECHO Troops
Vietnam 1st Battalion
Paul Ferrante
A, E Companies 1967 – 1968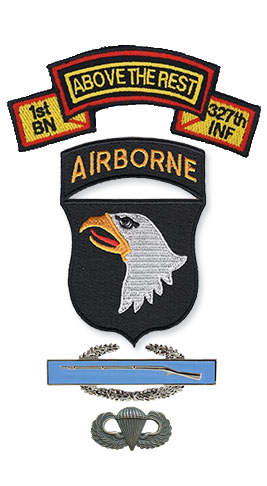 Well, it all began in Sept 1967 when I arrived in country. I had been levied from the 325th/82 ABN in FT. Bragg and ordered to report mid August '67. Since I didn't think I'd be coming home again and since I had just gotten engaged during my leave, I decided to wait until Sept to report instead of mid August. What's really ironic about all this is that as I was reporting to Ft Lewis Repo, the REMF clerk had to yell out my name because they could not immediately locate my personnel file, evidently because I was nearly 4 weeks late. Immediately behind me was this big black guy who taps me on the shoulder and pointing to my name on his orders, asks, "yo man is this you?" I said yep, "that's me, a little late but here nevertheless." He laughs out loud and points out his name, which was several lines below mine. We were both due to report mid August and as it turns out, we both were late reporting for duty AND, ironically, he is standing directly behind me. Robinson and I became immediate friends. We both got busted to E-1 for being AWOL and laughed at the leg sergeant as he lectured us during our Article 15 ceremony.
Robinson went to C Company while I went to A Company after our 'P' training. We remained friends until I departed RVN. Man would I love to get in contact with him again!
After a few months in country, I was returning from the hospital after getting malaria and Top Dayoc asked me why I was an E-1. I told him the story; he laughed and said we can't have any E-1's in my outfit. Bang, just like that I was a high-ranking PFC again. For payment, I had to listen to his tales about carrying a water-cooled 30 cal machine gun in Korea! It was worth it.
After leaving country 8/18/68, I went to college on the GI Bill and graduated with BS in Accounting. A few years later, again using the GI Bill I went to Grad school at night and earned and MBA in Finance. Today I am working as a self employed consultant of SAP Software.
I am married for 32 years and have two grown sons, Paul born 4/77 and Christopher, born 12/79.
Life has been pretty good especially when you consider our fallen brothers who never had the opportunity to marry or father children having made the ultimate sacrifice at a far too young age.
Believe it or not, I have many found memories of RVN primarily because of the outstanding people that I met. Most I have never seen since, nor will I, but I remember them and things about them that I will never forget. We all were truly a BAND of BROTHERS. Included in my personal band of brothers are:
William 'Smitty' Smith (NC)
John Latham (WIA- Ashau Valley)
Pete Conlin (KIA 4/21/04 C Company)
Harland 'Wineo' Winland (Indiana)
Sgt Baker (4th Plt Sgt) (Oregon?)
John Kaddle (Oregon?)
BJ Smith (Clyde, NC)
John Binkowitz (Bellville, NJ)
Charlie Barouzawitz (Jersey City NJ)
Capt 'Rango' Norris
Stephan Huff (E Co)
Salalzar (E Co)
Sgt 'Snake' Turner (E Co)
Marion Bush (E Co)
Many others whose names I just can't recall.