Project Name
Estes, David
Categories
1st Battalion,Delta Troops
Vietnam 1st Battalion
David Estes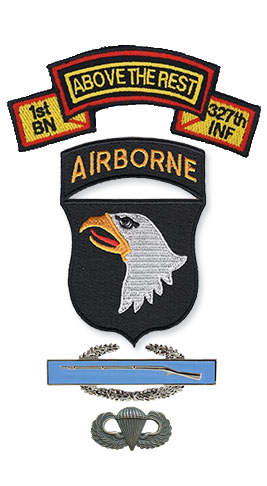 I served with the 25th Division until March 71, then in the field – FB Bastogne and Birmingham among others until August 71 when I became Awards and Decorations clerk at Delta Company HQ back at Camp Eagle.
I have been teaching for the past 31 years in a suburban St. Louis middle school and have taken early retirement. I live in Normal in Central Illinois and am now Historian for the new Livingston County War Museum and Education Center in Pontiac Illinois. Our museum opened last August and is dedicated to the veterans of World War I, World War II, Korea, Vietnam, Desert Storm and Iraq and Afghanistan.
My father is Curator and works with me 3 times a week. He is an 87 year old veteran of Omaha Beach and the Battle of the Bulge.
My best friend was Bob Pulaski who died in August 1971 on FB Bastogne. I highly recommend the book A Life in a Year by James R. Ebert which describes his death and comments by 1/327th trooper Dwight Reiland about the 1/327th AO and unit activities in 1971.
Above the Rest!
David Estes
Delta Company 1/327th Inf March-December 1971
Livingston County War Museum
Pontiac Illinois