Project Name
Dyke, Charles (Bill)
Categories
2nd Battalion,H&HC
Vietnam 2nd battalion
Charles (Bill) Dyke
H & H Company 1965 – 1970
RAMROD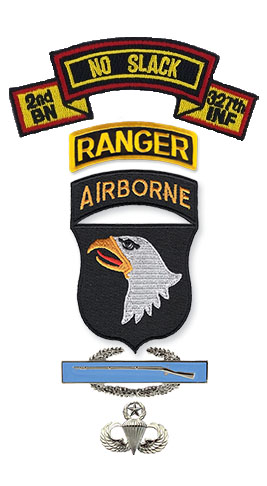 I joined the 2/327 at Fort Campbell in May 1965 when the First Brigade was receiving augmentation from throughout the Division in preparation for Vietnam. I moved from S3 1/501, 2nd Brigade, to S-3, 2/327 and went to Vietnam on the 2/327's Advance Party, receiving the main body at Cam Ranh Bay/Dong ba Thien on July 28, 1965 (my 30th birthday).
For the remainder of the 1965-1966 tour, I served as S-3 (Operations
officer), Battalion XO, and, on several occasions, as battalion
commander. In April 1966, the 2/327 commander, then LTC Melvin Garten, was seriously wounded just north of Tuy Hoa when the jeep he was standing in with Sergeant Sammy D. Ipock, 2/327 Scout Platoon, hit a mine. I again assumed command of the battalion until LTC Joe Wasco arrived, I believe toward the end of May 1966. It was LTC Joe Wasco who gave the 2/327 the motto "No Slack", which was immediately accepted and embraced by all of us. I continued as LTC Wasco's battalion XO for a short time, did some report writing for the brigade commander, BG Pearson, and departed for home in late June.
In September 1968, I returned to the 101st, with initial assignment as
Deputy Commander, "Always First" Brigade and 10 November '68, assumed command of the No Slack battalion from LTC Charlie Beckwith, and commanded the battalion until June 1969. From June 1969 to September 1969, I was the Division G-1. On September 18, 1969, I believe, I assumed G-3 (Operations and Plans) responsibility from LTC John Rogers and remained G-3 until June 1970 when I returned to Carlisle, PA for the Army War College. In June 1970, I completed some 33 months in Vietnam, all with the 101st Airborne Division. Big chunks of this time was in the truly great 2/327 No Slack battalion.