Project Name
Dresser, Dave
Categories
2nd Battalion,A Company,E Company
Vietnam 2nd battalion
Dave Dresser
A, E Companies 1967 – 1968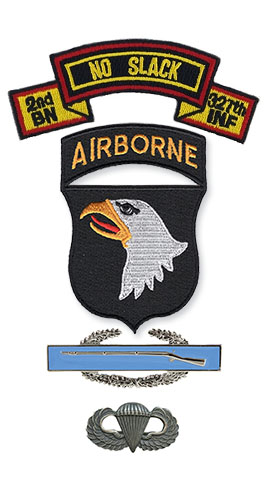 I am very impressed by the 2/327 web site! I was there in '67 – '68 with Alpha, 1st platoon for a while and then with Echo in HQ. I spent about three months on the line with the 1st platoon, Alpha Co., as an RTO for Lt. Williams. Sgt. Alonzo was the platoon sergeant. One day 1st Sgt. Dube came out to the field on a chopper and asked if anyone in the platoon knew how to type because the company clerk was about to DROS. I raised my hand and got the job. About three weeks later, the guy who took my radio was KIA. I don't even remember his name. He is the tallest trooper in the back row of this platoon picture, about four guys in from the right. I had to ID his body; he was still wearing my radio at the morgue. Some things stay with you for a long time.
The platoon picture is marked on the back "Christmas 1967 – Phan Rang, RVN – First Platoon – A Co.". I have also included a photograph of me standing in front of the company HQ in Phan Rang.
Thanks for the memories. By the way, the bridge shown in the photograph with the caption "James Mason Memorial Bridge," Camp Eagle" was, as I recall, right behind Echo Co. I fell off that bridge a few days before DROS and received my only substantial injury from Vietnam; I still have the scar on my right leg. I was one of the lucky ones. I kept track of the KIAs I personally knew while I was there. There were 182 in the 364 days I was in country between September 1967 and September 1968.
No Slack!!!!
Dave Dresser