Project Name
Crandall, Bret Fletcher
Categories
2nd Battalion,D Company,KIA,KIA 1969
Vietnam 2nd battalion
Bret Fletcher Crandall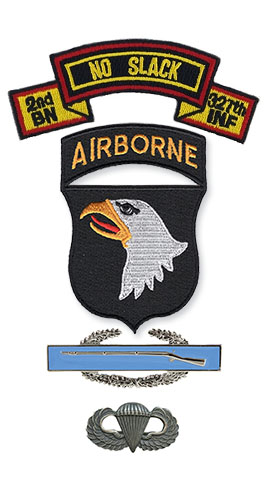 December of '68 brought an opportunity for Bret and I to attend Marine Corp Sniper School. Although a previous commitment (R&R in Hawaii) kept me from accompanying Bret, I made the January class at Camp Eagle.
Our company, D-2/327, had been operating off Hill 88 located along Highway One, a perfect kick off point to conduct sniper operations. Bret wasted little time in becoming my personal hero. Operation after operation brought back confirmed kills and enemy weapons. Not only was Bret superb in the field, his shooting ability was unmatched. In the mountains east of Fire Base Los Banos overlooking the South China Sea, I witnessed Bret, through my own rifle scope, take out his target at well over 1,200 meters with open sites! Condensation in his scope had rendered it useless.
The entire AO had been littered with booby traps in retaliation for our battalion's success and while on another sniper operation with Lt. Tom Carpenter in February '69, Bret received a severe head wound and was medevaced to the USS Repose Naval Hospital Ship.
Bret was eventually sent to a hospital at Fort Bliss, Texas. There, his mother and father stayed at his side and wrote me often. Everyone in the company was always anxious for news of our comrade. Encephalitis from his wounds finally took our brother and warrior on March 30, 1969. We dreadfully miss him.
Dale Hansen
Watch now: KUED Documentaries | One Family…
The story of the Crandall Family of Salt Lake City during the Vietnam conflict.