Project Name
Copeland, Pat
Categories
2nd Battalion,B Company
Vietnam 2nd battalion
Pat Copeland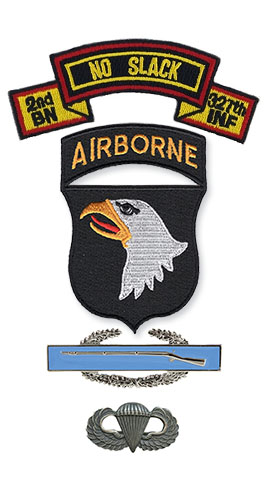 I was drafted 7 December 1965. Basic at Fort Ord, Advanced AIT Ft. Gordon GA, Scout Dog School (and jungle training with dogs with Rangers), at Ft. Benning GA. Arrived in 'Nam August 1966 with 42nd. IPSD attached to the 101st. Airborne at Phan Rang. Met the up with 2/327 at Kon Tum and assigned to "B" Company 2/327. Met up with long term friend from Bakersfield Nick Spurrier (Sgt. Rock), who taught me the ropes and walked "slack" for me for about 6 months before he derosed back to the states. I worked almost exclusively with B company who became my second family.
I participated in the first "In Country" jump school at Phan Rang and earned my jump wings which are one of my greatest accomplismnets and which I remain very proud of to this day.
I lost my primary dog "Turret" three quarters of the way through my tour (although I continued to walk point with a replacement, "Brez"), which ended in mid September 1967.
Since my return to Los Angeles, I have been employed exclusively in the telecommunication field most recently as a private telecommunications consultant.
I look fondly upon my time in the 'Nam and the comradre that I felt with those amazing individuals I met in the 2/327, especially those in "B" Company.
NFS
PAC