Project Name
Cook, David S.
Categories
1st Battalion,Cobra Troops
Vietnam 1st Battalion
David S. Cook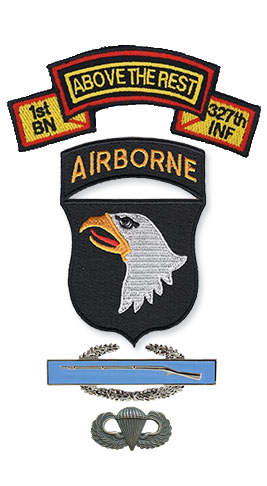 I enlisted in the US Army 16 Sept., 1963 for training and duty as a US paratrooper. I went to Ft. Dix, NJ for Basic and Advanced Infantry Training and was qualified as a "heavy weapons infantryman" (MOS 112). For some reason when I came out of AIT I also had a 111 MOS which is "light weapons infantryman"
In February 1964 I was assigned to Ft. Benning for Jump School (Class 45 "On Top," Tower Number 704). Upon reaching Ft Campbell I was assigned to Co. B 1/506 Infantry, 3rd Bde 101st Airborne. Initially I was assigned to the 1st platoon but, after a month or so, MSgt Dale Burge, one of the WW 2 101st vets still w/the division, had me reassigned to the weapons platoon as a computer in the Fire Direction Center (FDC). In that platoon Sp/5 Mike Geiger, the head computer, helped me learn all about the job.
In the Spring of '65, right after we came off alert for movement to the Dominican Republic, the opportunity to volunteer for reassignment to the 1st Bde and duty in an "undisclosed location in the Pacific region" arose. I, and a very large number of B 1/506 troopers, opted to volunteer for that duty. We all knew the "undisclosed location" was to be Vietnam.
Many of you who served in the division stateside will remember the periodic "classes" we had on various topics usually conducted by one of the platoon leaders. It was at this time, during one such session, 2/Lt Neil Senkus was discussing "world events" and I piped up that the 1st Bde was going to Vietnam, information that was supposed to be classified. When I said that he got real excited and said, "Cook, that is classified information and I want to know where you got that from." When I said "Time Magazine," and produced the then current issue, he calmed down somewhat. I was afraid he was going to take me outside and shoot me on the spot. (This is the same Lt. who tried to shoot azimuths from inside a deuce and a half and also while steadying the compass on the metal butt plate of his M-14 w/o much success as I recall. We said that in his hands a lensatic compass became a deadly weapon).
It was my good luck to be assigned to "Cold Steel Cobra," C 1/327 along with a lot of others from B 1/506. We left for Nam 7 July '65 and "sailed" aboard the Gen LeRoy Eltinge. (I found out since that the Eltinge was named for Gen. Pershing's chief of staff during WW I).
Initially I was the gunner for the 2nd 81mm squad because the FDC spot was filled by a recently promoted Sp/5 who was actually a cook. In order to promote him, he was assigned, on paper, as the FDC guy which was an E-5 slot. What that meant was that I humped the bipods (42 lbs) and, as soon as the guns were set up, I went to FDC and did that job since the Sp/5 didn't know a plotting board from an ironing board. After about 1 month he was gone, back to HHq 1/327, and I was the official FDC.
During my tour C 1/327 I was present for all the various operations except when the company, along with the rest of the outfit, was a Cheo Reo. I had a leg infection from leeches picked up in the mountains around Nhon Co in May of '66.
In early June, when I was released from the hospital, my then 1st Sgt, Warren Eichelberger, told me I had been promoted to E-5. I was sent, on or about the same day, back to "the forward area" and never received orders for such a promotion although Eicheberger made me wear the stripes. (I have since been told I was mistaken and that it never happened by one who was not there at the time).
My last operation was at Dak To in June of '66 and, from there, I DEROSED back to the world.
I was never wounded. Except for a C.I.B. I never received any awards or decorations, not even a Good Conduct Medal, although I was never busted or given an Article 15. Mediocrity is its own reward.
I was discharged 7 July '66 and came home to Maine. I enrolled in the University of Maine, graduated in 1970 and started my 27 year history teaching career in Winthrop, Maine.
In 1988 I began writing the "327 Abn Inf Ass'n (Vn) column in "The Static Line" and organized the association of the same name. Part of my work was to compile the 327 Roster (available on this website) which now contains nearly 1100 names and addresses of 327 Nam vets.
In 1998 I was named "Distinguished Member of the Regiment," probably another mistake.
I retired in '97 and am now employed part time as a history teacher at Central Maine Technical College.
I have been married to my wife Meg for 25 years and have two children, a son Chris who is 23 and a daughter Sarah who is 13.
I have been active in academic pursuits and authored a book "The Indian Canoe Routes of Maine" and am about to publish another on the archaeology of Maine and the Northeast.
My proudest accomplishment is my service with the "Above the Rest" battalion.