Categories
2nd Battalion,B Company
Vietnam 2nd battalion
James Boan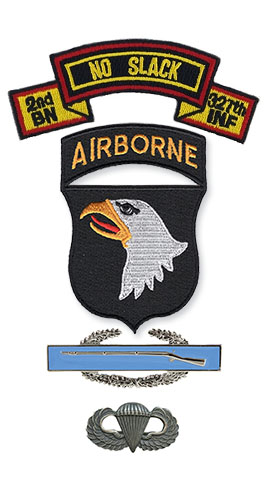 When I came in country in 1967 the 1st Brigade base camp was at Phan Rang. From there we operated throughout the country, from south of Saigon to north of Hue. The 1st Brigade was known as the Nomads, and we truly were.
From July of 1967 to January of 1968 I had seen much of the country. Bien Hoa, Phan Rang, Phan Thiet, Song Be Valley, Ban Me Thout, Nha Trang, Bao Loc, Qui Nhon, Duc Pho, Chu Lai, Da Nang, Quang Tri (I probably left out a few places, the jungles and rice paddies look pretty much the same).
After a brief stay at Bien Hoa just before and during Tet we were deployed to Hue/Phu Bai and there we established Camp Eagle, at a former Marine Base. We operated out of there from February 1968 until I left in September of 1968 and for a long time after.
I served as rifleman from July of 1967 to about February of 1968. I was Squad leader on our first outing from Camp Eagle in late February 1968 and was WIA on Feb. 24, 1968 near a cemetery outside Hue. I know of at least two KIA that day, David Barduson, a RTO, and Sgt. Jimmy (Poncho) Flores. Poncho was WIA that day and died on March 11, 1968.
After my time in the hospital it was back to the boonies. Humped the A Shau for awhile and was sent to the rear in late May or early June to become the Operations Sgt. for B Co. Extended in July to take an early out (easy decision when you're in the rear, if I'd still been in the field it may have been different, huh?).
Anyway that short bio has become a short story, Huh?
James M. Boan (Cisco Kid) If you remember the old westerns you'll get the connection.
Jimmy Flores (Poncho) and me (Cisco).
I served as rifleman, Squad Ldr and Operations Sgt. in B/2nd/327th.
I have been married for almost thirty two (32) years to my wonderful wife Diane and we have one son, Jason (26). Thank goodness I was single during my short army career. I work for the U.S. Postal Service as a Supervisor Customer Service and have been with them for 26 years. I hope this pretty well covers things for now.