Project Name
Beasley, Bill
Categories
2nd Battalion,A Company
Vietnam 2nd battalion
Bill Beasley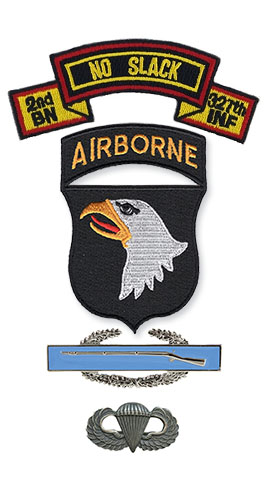 I served in Viet Nam from 06/70 until 02/71 with A Company, 2/327, 1st platoon. I started as a fire team leader, then squad leader in Los Banos Fire base area and later became Platoon Sergeant. Our company AO change to Fire base B'Ham. I ETs'd from there and caught the freedom bird home.
Since, I have been employed with Merck Chemical Inc. (a bulk pharmaceutical manufacturing company of active ingredients) in Albany, Georgia. I worked as an instrument/electrical tech. I was promoted to a supervisor position and later became a Senior Maintenance Supervisor. I retired in August 05 (for 9 months) and was recalled to assist with a plant closure. During retirement, I started an electrical contracting business, Flint Electrical Contractors Inc.
I have been married to the same lady since 1967. We have 2 daughters, 39 and 36. We have been blessed with 3 grandsons and 2 granddaughters.
My hobbies are hunting and fishing.