Project Name
Baldwin, Stephen F.
Categories
1st Battalion,Brave Rifle Troops,ECHO Troops,Tiger Troops
Vietnam 1st Battalion
Stephen F. Baldwin
B, E (TF) Companies 1969 – 1970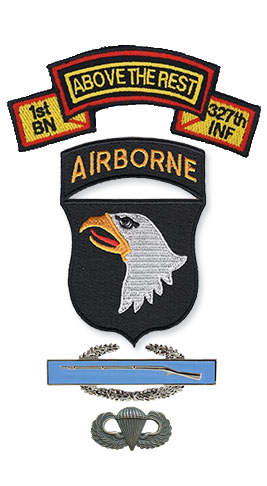 I was born in Winston-Salem, NC in Nov. 1947. Married my high school sweetheart, Teresa Nifong in Sept. 1967. We have one daughter, April Marie Baldwin, born in July 1970 while I was still in RVN.
I worked as a commercial artist until I was drafted in Jan. 1969. I had Basic, AIT, NCOC, and Paratrooper training at various Army Forts.
I was assigned to B-Co.1/327th, 101 Airborne Division RVN as a squad leader in Dec. 1969. I volunteered reassignment to E-Co. 1/327th "Tiger Force Recon" in Mar. 1970 where I served as a reconnaissance team leader until DEROS in Nov. 1970.
After returning from RVN I worked for the City of Winston-Salem Fire Dept. until disability retirement as a District Fire Chief in Apr. 1992.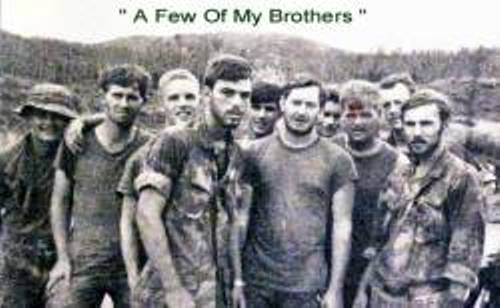 L-R Louis A. Ramos, Gilbert M. Arrington, Douglas P. Bailey, Stephen F. Baldwin
Delbert K. Spaur, Dennis Moats, Aubrey, William H. Seale,
Mike Krietestein & Cy Matthews.
They had just returned from the A-Shau Valley and on their way to debriefing.